Spurs start season at home
Posted on May 30, 2018 by Taber Times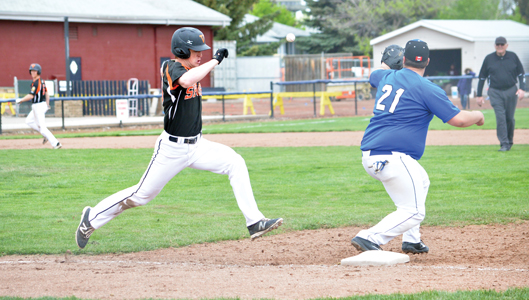 SPEED DEMONS: The 2018 version of the Vauxhall Spurs should be able to leg out a lot of base hits (and extra-base hits) this season in American Legion 'A' competition. TIMES PHOTO BY COLE PARKINSON
By Greg Price
Taber Times
gprice@tabertimes.com
The Vauxhall Spurs are ready for another season of American Legion 'A' baseball.
Final cutdowns have been made and the team now hosts its home opener at Jets Stadium starting at 6 p.m., with another game at 8 p.m. against the Fort Macleod Royals.
The Spurs had a tune-up exhibition tournament to the regular season on the May 19 weekend, which helped head coach Connor Parsells make his final roster decisions for the 2018 season, as the Spurs will feature a bench that is 16 players deep.
"We had to cut quite a few guys, we took three new guys. We are pretty excited with the guys we got," said Parsells of a squad he has inherited that has seen regular visits to the State tournament in recent years with the strength of the program. "We went into the tournament with the goal of winning every game in the tryout process. We brought a group of guys we were choosing from that were all close and gave us a good chance to win."
The Spurs won three games (Fort Macleod, Medicine Hat, Saskatchewan) and lost one (Lethbridge Miners).
"We definitely got to see what we wanted to see, and we made solid progress," said Parsells. "Part of the focus in selecting the team and making cuts was who is going to help us defensively and who has the most flexibility in helping us out in the most positions.
Losing a few players from last year's team that could rake with the bat, Parsells sees the same thing in the 2018 version, with right down the lineup being able to do damage.
"We are returning a lot of bats and that will be our strength 100 per cent. We hit the ball hard and we run well. We are great at putting pressure on the other team on the basepaths which is an emphasis. We will turn some singles into doubles, and we have guys that will put the ball over the fence," said Parsells. "We've also seen some arms this last weekend (at the tournament) who last year did well, but they have definitely taken a step forward which will be huge for us."
Parsells is a coach who preaches mental toughness, taking the same positive approach to the plate, whether someone is 0-for-4 or 4-for-4 at the plate, not getting too high or too low.
"We don't want anything from the outside affecting us. We want to control our effort and attitude all the time," said Parsells. "I am definitely an aggressive coach. But at the same time I'm going to be hands off at times. I want these guys to learn and pick their spots. We might not do as many hit and runs, but we are definitely stealing bags and taking extra bases."
After today's home opener against Fort Macleod which starts at 6 p.m. at Jets Stadium, the squad is off to Conrad to take on the Tri-County Cardinals on Saturday for a doubleheader in Montana. The team is then again on the road on Tuesday, June 5 for a doubleheader against Lethbridge Miners at Spitz Stadium, starting at 6 p.m.