Southern Alberta Summer Games registration deadline coming soon
Posted on May 30, 2018 by Taber Times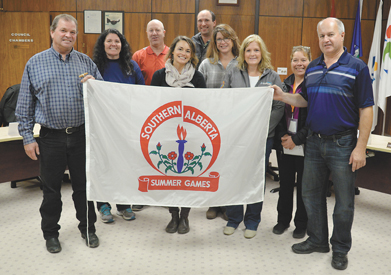 HELPING HAND: The 2018 Southern Alberta Summer Games committee is still looking for volunteers as the date nears for the Games July 4-7. TIMES FILE PHOTO
By Greg Price
Taber Times
gprice@tabertimes.com
The Town of Taber and surrounding M.D. area have had a flair for the dramatic when it comes to registering for special events over the years.
At least that is the hope of Southern Alberta Summer Games organizers, as registrations are at a slow trickle as of now, with a June 8 final deadline fast approaching.
"We have about 80 people registered right now and we are expecting around 500. So it's super last minute," said Keegan Brantner, regional director for the Southern Alberta Summer Games. "The Taber area has always been very supportive of the Games. And being it's here, it's a lot easier for people to compete and we have so many different events for people to compete in or even volunteer. We get a lot of families where every single person is participating."
For the young and old, Brantner encourages people to log onto http://www.southernalbertasummergames.com to see the wide array of events and sports people can participate in that fits their interest. You have seen the five year old all the way to the great grandparent participate in the Games.
"We have cribbage which is a big hit with the older people along with golf and athletics. There will be something that will appeal to everyone at the Games," said Brantner.
New events at the Southern Alberta Summer Games is motocross, which is a first in the history of the Games according to Brantner. Also, the phenomena of pickleball as one of the latest sports crazes, will be featured at the Taber Community Centre. Pickleball is a paddle sport that combines elements of badminton, tennis, and table tennis. Two or four players use solid paddles made of wood or composite materials to hit a perforated polymer ball, similar to a Wiffle Ball, over a net.
Registrations can be made by going to the Grey Room at the Taber Community Centre with hours of 8 a.m.-4:30 p.m. Registration cost is $15 which enables entry into three different sports. If one of those is athletics, five different competitions can be entered. Registration includes a T-shirt.
"Especially with events like say beach volleyball where we only have a certain amount of spots, the earlier you try and get in the better," said Brantner. "We've had to do playoffs before. Those things fill up quick."
Coaches are also needed for various events to run which include U8 ball hockey. Also, no coaches have been secured yet for any Taber-area baseball teams for the Games.
Volunteer opportunities can be inquired about by calling 403-223-5500 ext. 5561 and asking for Brantner or Emma Sawchuk or by logging onto http://www.southernalbertasummergames.com. The Games go from July 4-7.