Town looking at donations for fourth ball diamond
Posted on May 23, 2018 by Taber Times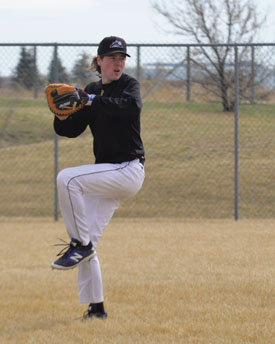 TIMES FILE PHOTO
By Trevor Busch
Taber Times
tbusch@tabertimes.com
As assistance to help enhance their fundraising campaign, the Town of Taber will be accepting charitable donations in association with the Baseball-Softball Enhancement Society to be put towards the construction of a fourth ball diamond at Ken McDonald Memorial Sports Complex (KMMSC) in 2019.
Early in 2018, a group of individuals in the community came together with the purpose of enhancing the baseball and softball facilities in Taber, and is in the process of achieving society status. In past meetings, council had been informed that members of the Baseball-Softball Enhancement Society are willing to canvas local business regarding sponsor signs for the outfield fences at KMMSC for the purpose of raising funds for future development.
The society is looking at selling 30 signs at $1,500 for a three-year commitment for businesses. The business will provide the sign and be responsible for the maintenance. The contract would be limited to one diamond per agreement, not all four.
"We're just looking for some absolute, black and white clarity from council if someone comes in with a big wad of cash saying put this on the new baseball diamond, what should we do with that money?" said CAO Cory Armfelt at council's May 14 regular meeting.
Following a request from the Baseball-Softball Enhancement Society on March 26, town administration reviewed protocols about potentially issuing receipts for donations to an organization that is not currently a registered society.
According to administration, the Canada Revenue Agency (CRA) does not allow municipalities to accept donations and give out tax receipts on behalf of an organization that is not a registered society, and it is also not permitted to issue a tax receipt for a donation of labour.
Contributions of services (time, skills or efforts) are not property, and therefore do not qualify for issuing a donation receipt, but finance director John Orwa explained that the CRA does accept what's known as a "gift proper."
"So the town could in actuality accept cash gifts that are designated specifically for an additional ball diamond, but it would come directly to the town, and then the town would commit those funds towards the development of that fourth diamond," said Coun. Joe Strojwas at town council's April 23 regular meeting.
During the May 14 meeting, Coun. Mark Garner questioned if signboards are really what council would like to see along outfield fences at KMMSC.
"Ultimately, I guess that would be a decision of council," replied recreation director Aline Holmen. "That would be a way to raise some funds. We have one signboard out there already, the Taco Time one. There hasn't been any other interest."
Garner was concerned that council be clear in its messaging.
"I hate to collect people's money with the anticipation that they're going to have their business sign on a diamond, and then say no, we're not going to do that. I just want to make sure that it's congruent with what we're saying to them."
Holmen suggested the town's position is consistent.
"That was the plan. I believe they're looking at $500 per year in a three-year agreement."
Coun. Garth Bekkering insisted town control can be exercised over the advertising in crucial areas.
"There is considerable restrictions conditions placed on boards — size, and various things. It's not that you can put it anywhere you want. I think it's regulated fairly well."
Following discussion, council voted unanimously to authorize administration to receive donations from the public and provide tax receipts for sign boards on the baseball fields at KMMSC with the funds to be put toward the 2019 capital project of diamond development at that facility. Coun. Louie Tams was absent from the meeting.
Now authorized, all funds raised will remain under the control of the town and will be allocated to the 2019 capital project relating to baseball diamond development.
There is currently $250,000 approved in the 2019 capital budget for the development of a fourth ball diamond at KMMSC. On March 26, society representative Rick Popadynetz had indicated he expects the society to be able to raise $150,000 in grants and donations in its first year in existence.