Rebels football caps off successful spring camp
Posted on May 23, 2018 by Taber Times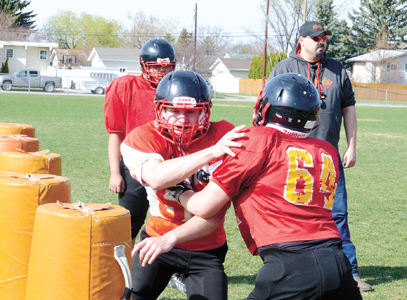 TACKLE: Corny Howatt of the W.R. Myers Rebels football team practices a pass-rushing technique against one of his teammates at W.R. Myers field earlier this month. TIMES PHOTO BY GREG PRICE
By Cole Parkinson
Taber Times
cparkinson@tabertimes.com
After a particularly long winter in southern Alberta, players were once again ready to hit the gridiron for spring football camps.
The W.R. Myers Rebels kicked their spring off earlier this month and just last weekend they competed in a four team jamboree in Medicine Hat.
"The jamboree was a great way to wrap up our spring camp. It's played under scrimmage rules, with coaches on the field, and teams getting 12 minutes each with their varsity and junior varsity offences. We went in with only 22 players, which kind of put us in a tough spot in a format like this, as our players had to play both ways, and sometimes on both units, while Crescent Heights, and Hat High each had rosters of over 40, so they were able to continually roll with relatively fresh players. I'm mostly okay with that though, as we typically have a small roster, so we need to get used to having to play tired against fresh teams," said Rebels head coach Jason Jensen.
In the first matchup, the Rebels faced off against the Crescent Heights Vikings.
The coaching staff was most impressed with how their varsity defensive squad responded to the challenge the Vikings brought.
"Our varsity defence came out on fire against them. We were continually in their backfield, either sacking the quarterback, or stopping runs for loss. Couple that with several interceptions, and it was a tough day for their offence, as we held them scoreless," said Jensen who also highlighted what the team was able to down on the offensive side of the ball. "Our varsity offence was able to move the ball pretty well against them, and managed to find the end-zone a couple of times to put us in the lead."
While the varsity squad offered plenty of positives for the coaching staff moving forward, they were also happy with how their JV's played.
"Our JV defence picked up where our Varsity squad left off, and they were only able to score on the last play of their session. Our JV offence was limited with what we could do, as we didn't actually have a backup quarterback for the spring, but receiver Kadin Reynolds did a pretty good job stepping in and playing a position that he had only repped a few times in practice," added Jensen.
With the ability to face off against three other teams in the jamboree, Jensen had Crescent Heights circled on the schedule.
The Vikings are a tier above them which Jensen liked because it gave them a good barometer on what to expect moving forward into the 2018 regular season.
"Really, this was the team I was most interested in playing, as they are typically a provincial contender in Tier 3, which is a level above us. The fact that we were able to handle them like we did tells me a lot about where we stand going into the fall season," said Jensen.
Next up for the Rebels were the McCoy Colts who provided a good opportunity for the coaching staff to play some of their rookie players.
"Our second game was against McCoy, which is a program that is in a rebuilding cycle. They're a team that is going to show up and fight hard against us, though, so it was a great game to see what we have in some of our incoming rookies. We handled them pretty well with both defensive units, and they were only able to score on one long bomb in the JV session," continued Jensen.
While the game afforded them to battle test some of their younger players, it also allowed some new faces on the coaching staff to try out some different offensive plays.
"Our offence was able to put up quite a few scores, and new offensive coordinator Garrett Simmons was able to open up the playbook, and try a few things that we hadn't gotten to rep much so far," said Jensen.
After two successful games, the Rebels were in tough against hosts Medicine Hat High Mohawks for their final game.
The Mohawks have been slotted as a Tier 2 team with players that could present challenges for the coaching staff.
"We knew going in that this one could mean trouble for us. They are a perennial provincial top 4 team in Tier 2, which is two levels above us, their players had only been playing one way, and on one unit. That makes things a little tough. Some of our linemen hadn't really left the field at all in the previous two games, and it became apparent pretty quickly that our guys were too gassed to hold up to much of this," said Jensen. "They managed to put up a few scores on our varsity defence, but our offence managed to answer on a designed quarterback keeper where Mike Sawatzky pin-balled through their defence for a 40 yard score. After the varsity sessions, I was faced with of decision of whether or not to continue. My boys were absolute warriors, and had I left it up to them, they would stayed on the field, but in the interest of player safety, I had to pull the plug. Fresh players against gassed blockers is just a recipe to get someone hurt, and in an exhibition jamboree, there's no sense in taking that risk."
With the spring camp now over, focus will start shifting to the regular season which starts in the fall.
While the players and coaching staff will have to wait a few months until it ramps up again, Jensen is excited at the glimpse he got throughout the spring camp.
"All in all, I'm extremely proud of our boys. In conversations I've had with coaches from around the province, I've found out that we've developed a serious reputation of being one of the toughest teams around, able to play both ways, and give teams hell from whistle to whistle. I spoke to this when I was addressing the boys in the locker room, making the rookies aware of what kind of program they were coming into, and what the expectations will be. I can definitely say that they all impressed me," said Jensen. "I can't wait for the fall, when we have our full compliment of players. In the past two seasons, we've come up just short of going to the Alberta Bowl, so I'm hoping that this year is the one where we can get over that hump. "