St. Mary's school wraps up badminton season
Posted on May 16, 2018 by Taber Times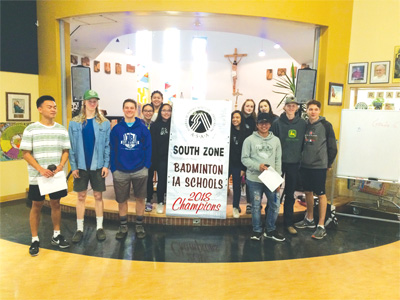 TIMES PHOTO SUBMITTED
By Cole Parkinson
Taber Times
cparkinson@tabertimes.com
With the school year in the final stretches, so too are the corresponding sports seasons.
For St. Mary's School, the latest season to reach its finale was the badminton season.
Coming off the end of the basketball season, the badminton run doesn't have nearly the lengthy schedule, though the sport is still incredibly popular throughout the facility.
"We wrapped it up in provincials up in Grimshaw (May 4 to May 5). It was a fast season," said principal Randy Spenrath.
This years squad had a decent size and upon entering the regular season they weren't afforded much rest in between tournaments.
"We had about 15 students on our high school badminton team. We attended a Chinook tournament in Lethbridge, the districts in Bow Island and the Medicine Hat invitational. Then zones and we sent two girls to provincials," added Spenrath.
This year's coaching staff saw Ronaldo Payongayong return and they also added former St. Mary's badminton player Landon French to the fold.
Much like in years past, St. Mary's was a dominant school in the badminton scene.
After capturing their fair share of banners last year, they added once again to the school's totals this year with a big win in Zone 1.
"I think some of the highlights of the school year for the badminton season are we captured the 1A Zone banner and that was an achievement that was decided on points that all of our players accumulated in the zone tournament. That is probably, I'm not sure how many years in a row we've won that banner, but it was nice those kids could continue with that," continued Spenrath.
Cherilene Payongayong and Christine Agravante also continued their medal streak as they gained a gold in senior girls doubles in Zones and a silver in B girls doubles in provincials.
After a few practices, the players were rushed into the tournament season where they were entered into a few local tournaments.
"We practiced twice a week and then we got into the tournament season, the busy part of the season, it was a weekend, a Wednesday and then the next weekend we were sending kids up to provincials already. It was fast," said Spenrath.
As the season has came to an end, so too have the careers of some of the players.
Like any other high school, St. Mary's will see their Grade 12 students walk out of their school for the last time as students and as high school student athletes.
While the team will certainly miss all of their Grade 12 students next year, the coaching staff was proud of what they accomplished.
"It's a tough time but we had some kids who have played with us ever since they were in Grade 6 and continued, so it was nice to see that," said Spenrath. "We had a strong bunch of Grade 12's this year."