Memorial golf tournament goes in June
Posted on May 16, 2018 by Taber Times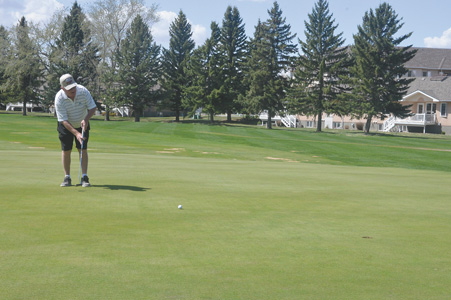 TIMES FILE PHOTO
By Trevor Busch
Taber Times
tbusch@tabertimes.com
With a recent local tragedy in mind, the upcoming Paul and Bernice Giroux 'We Have Not Forgotten' Memorial Golf Tournament will be benefitting needed efforts to improve the Taber Agri-Plex facility.
"This year, my sister and I had to help plan a funeral for a girl that fell off a horse, and this was held at the Agri-Plex. They need a new roof, and a lot of updates, especially to make it wheelchair accessible," said Steph Giroux-Feininger, co-organizer of the memorial golf tournament. "So this year obviously we're donating to the Taber Agri-Plex. It doesn't always bring a lot of people to Taber, but a lot of people from Taber use the facility — the Cowboy Christmas, the Taber Farmer's Market — there's tons and tons of things that are useful, and they do need some help."
Hosted at the Taber Golf Course on June 2, one of the tournament's holes will be dedicated to the memory of Montana Halvorson.
"The girl that died is actually very, very close to our family, so we're actually going to be donating a hole in her honour, so the No. 3 Hole to Montana Halvorson. So that's fantastic," said Giroux-Feininger.
Entry fee is $110 (which includes cart rental and supper) with registration at noon followed by a 1 p.m. shotgun start. The tournament format is a non-competitive mixed scramble, with between 124 and 148 participants expected.
"It's very reasonable compared to other tournaments," said Giroux-Feininger. "We have a lot of people from the community donating not only money, but silent auction, volunteers, so it's great, they're really coming out to support the Taber Agri-Plex, which is always good. There's a lot of people that don't even know what the situation is there."
This year is the 5th annual iteration of the tournament.
"It means a lot that we can still do it, and it's still successful. Every dollar goes, we don't have a bank account where we keep even $5 bucks to start with — we start at zero every year, which is hard, but it works every year. We also promote organ donation obviously, my dad was a heart transplant and kidney transplant recipient, so we always promote that, as well as Alzheimer's awareness," said Giroux-Feininger.
People interested in pre-registering for the tournament can contact Giroux-Feininger at 403-892-3270.
"It's great. A lot of people are non-golfers to very good golfers. It's a great way for my parents to give back. This raises awareness (which) mostly is what we feel is the greatest thing. Yes, the funds are great, but the awareness that there's certain people in Taber that need help, that gets across to other people and agencies, and that's fantastic."