Several Rebels featured in SAMFA all-star game
Posted on May 10, 2018 by Taber Times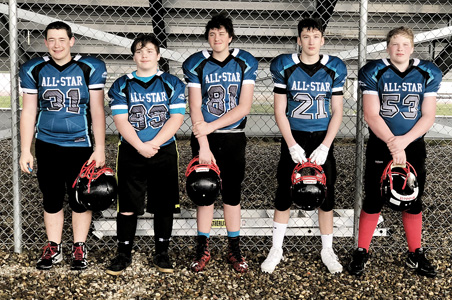 REBEL ROUSERS: Carsen Reid, Cohen Broadbent, Kyler James, Aiden O'Connor and Tucker Mouland were some of the Taber bantam Rebels who participated in the SAMFA all-star game. Missing are Mason Werewka and Alex Neudorf. TIMES PHOTO SUBMITTED
By Greg Price
Taber Times
gprice@tabertimes.com
There were seven Rebels who participated in the Southern Alberta Minor Football Association (SAMFA) all-star game in Lethbridge on the weekend, as plenty of gridiron talent was front and centre.
Carsen Reid, Aiden O'Connor, Alex Neudorf, Mason Werewka, Cohen Broadbent, Kyler James and Tucker Mouland represented Taber at their various positions with teammates playing against each other, being split into two teams.
"Every one of them enjoyed themselves, and even from my standpoint, I had a blast. It was a lot of fun," said Jamie O'Connor who coached the offence for Team Teal, while fellow Taberite Garrett Simmons coached the defence on the team. "All the kids did great at the positions they were playing. Tucker got top offensive lineman for the game."
Team White was credited with a 49-7 win over Team Teal, but the teams weren't able to get in the full game as rain and lighting washed out the last 12 minutes of the fourth quarter at University of Lethbridge Stadium.
On Friday night, SAMFA held its league awards night which saw two Rebels win awards which included Aiden O'Connor (Most Outstanding Rookie) and Tucker Mouland (Most Sportsmanlike Player). Coming up in Taber for football is the Iron Will Performance Camp for nine to 15 year olds that will run June 2-3 at Ken McDonald Memorial Sports Park, from 9 a.m.-4 p.m. both days.
"It is for kids that are second-year atom, all the way up until the last year of bantam," said O'Connor, adding kids from all over southern Alberta attend the camp that is no pads and hones game skills. "There is a lot of experience with the coaches, with many playing college and university. The experience from the coaches is second-to-none. The experience is great for kids."
For more information or to register for the camp, you can log onto http://www.ironwillfootball.ca.