Haynes selected in WHL bantam draft
Posted on May 10, 2018 by Taber Times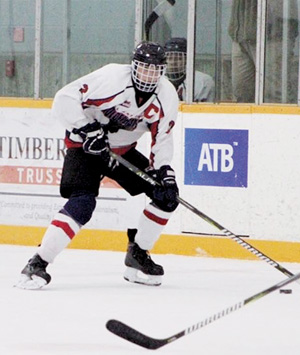 FLYING HIGH: Carson Haynes' strong two-way play manning the blueline for the Val Matteotti Golden Hawks has got the youngster recognized with a selection in the 2018 WHL Bantam Draft by the Tri-City Americans. TIMES PHOTO SUBMITTED
By Greg Price
Taber Times
gprice@tabertimes.com
Defenceman Carson Haynes has continued to impress in his young hockey career, as the Taber native has been selected in the 2018 Western Hockey League Bantam Draft that was completed in Red Deer last Thursday.
Haynes was selected in the third round, 58th overall by the Tri-City Americans.
Much like a handful of his other second-year bantam teammates with the Val Matteotti 'AAA' Golden Hawks, there was buzz that he would be selected somewhere in the 13-round draft, but the humble Haynes kept his expectations in check.
"Over the year they send you questionnaires, sometimes they phone, sometimes they meet you in person. As it gets closer and closer to the draft, more and more teams come out and do the things they like. The Alberta Cup has a lot of scouts at it," said Haynes. "You don't have an inkling (that you are going to be drafted) until about a month before with the teams that are really interested. But you don't want to get your hopes up and you don't want to be disappointed. You just let it happen, and if it happens you are relieved and are thankful it's over really."
Haynes was sitting in his Language Arts Enrichment class at W.R. Myers as he and his friends were linked into the draft on their phones with a live feed. As the draft progressed, his supportive friends were waiting with bated breath.
"I went to go get a book, and then it happened and I came back in and everyone cheered for me," said Haynes. "About an hour later they phoned."
Haynes is thankful that the Tri-City Americans have liked the way he has played and is going to take a workman-like attitude in the next year to prove their faith in him.
"I'll show them that I can play to that level and I'm going to. I'm going to work hard and make it happen," said Haynes, adding his spring hockey coach (Dino Caputo) is a scout for the Tri-City Americans. "He has told me all about the place and it's a really great organization."
The six-foot Haynes helped the Golden Hawks to a 22-10-4 record in the 2017/2018 season in Alberta Major Bantam Hockey League. Haynes had eight goals to go with 16 assists over 36 games while playing a steady game in his own end on a squad that was plus-64 in goal differential. A favourite player Haynes likes to watch and try and mold his game after is 24-year-old Colton Parayko of the St. Louis Blues.
"I'm a big defenceman who can skate I guess. I like to rush the puck, but with defence you are a D-man. You have to focus on defensive play before you get to join the rush or take the puck up. It's about your patience and not rush anything. Control what you can control and just play your game," said Haynes who was a captain on his winter team and was tied as the highest scoring defenceman for the Golden Hawks. "I was an assistant captain on my Alberta Cup team and I hope I can bring some leadership. Details are a big part apart from skill. It's about respecting people off the ice too and showing them you are a good person and not just a good hockey player."
Haynes will be attending a couple of Tri-City Americans camps in the summer.
"You are showing them your development form this year to next year and hopefully you get a chance to prove yourself and get a chance to play next year," said Haynes who will be playing midget "AAA" next season or midget 15s.
Playing organized hockey since he was five year sold in pond hockey, before eventually making his way to the peewee 'AA' system for the Taber Golden Suns and 'AAA' bantam in Lethbridge. With every step of the way, Haynes has been very grateful to all his mentors which has culminated in his WHL bantam draft selection last week.
"A lot of development and a lot of help from the coaches. With spring hockey in Foothills, Bruce Bell has really helped me out. Being a D-man himself, he really showed me his part of the game and developed my skills as a young player," said Haynes. "I want to thank everyone who has done anything for me hockey wise. All the teachers that have taught me to be a good person and my parent who have helped a lot. They have done a lot of traveling the last couple of years, going to Lethbridge six times a week with practices and games. They have sacrificed a lot. I want to show them all their hard work has not been for nothing."
GOLDEN TICKET: It was a very fruitful 2018 WHL Bantam Draft for the Val Matteotti bantam 'AAA' Golden Hawks with four players selected — all interestingly enough to American teams. Aside from Haynes (third round by Tri-City Americans—58th overall), they were LD Brody Tallman (eighth round by Portland Winterhawks —173rd overall, F Cole Larocque (10th round by Tri-City Americans — 212th overall) and G Tyler Palmer (10th round by Spokane Chiefs — 215th overall).
In total, 223 players were selected in the 2018 WHL Bantam Draft, with 124 forwards, 76 defencemen and 23 goaltenders selected.
Alberta led all provincial branches with 68 players selected. A total of 50 players from British Columbia were selected, with the 42 from Saskatchewan coming in close behind. A total of 33 Manitoba players were selected in Thursday's Bantam Draft, with 30 more selected from the United States. A record 15 players were selected from Canadian Sports School Hockey League teams in the first round.
Players eligible for the 2018 WHL Bantam Draft were 2003-born players residing in Alberta, B.C., Manitoba, Saskatchewan, Northwest Territories, Yukon, Alaska, Arizona, California, Colorado, Hawaii, Idaho, Kansas, Minnesota, Montana, Nebraska, Nevada, New Mexico, North Dakota, Oklahoma, Oregon, South Dakota, Texas, Utah, Washington and Wyoming.