Rugby Rebels rebound against Clippers
Posted on May 2, 2018 by Taber Times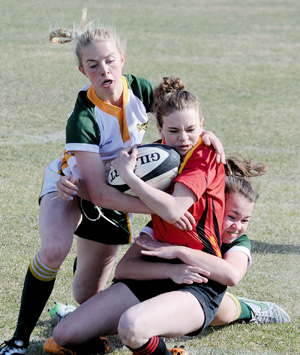 BATTLE READY: Tori Turcato of the W.R. Myers Rebels varsity girls rugby team fights her way through LCI Clippers tacklers in a road match last week. TIMES PHOTO SUBMITTED BY GARRETT SIMMONS
By Greg Price
Taber Times
gprice@tabertimes.com
W.R. Myers Rebels varsity girls rugby team did a 180 in league play in its road match against Lethbridge Collegiate Institute Clippers last Wednesday.
After getting dominated by Raymond the previous week, the team bounced back nicely with a 58-12 victory over LCI.
"We learned from our mistakes that we didn't do very well against Raymond and we concentrated on fixing three major things. Our tackling wasn't great, our support work wasn't great and our defence wasn't great," said Chris Komery, head coach of the W.R. Myers Rebels varsity girls rugby team. "We had two really good days of practice and we sharpened everything up. The girls came out and gave 110 per cent. I was extremely happy with the way that they played."
That included setting the tone early, scoring on the team's first touch of the ball with its first possession, scoring multiple tries before LCI scored its first.
"As coaches, we try and concentrate on moving onto the next game. Once we talked about Raymond the next day, that was it, it was done. The girls learned from their mistakes in practice, emphasizing the things we needed to work on," said Komery. "The girls for sure came mentally and physically prepared. The girls really came together as a team. It was the very definition of a team effort."
The Rebels now prepare for Winston Churchill Griffins at home at Ken McDonald Memorial Sports Park on May 3. Varsity plays at 5 p.m. with junior varsity at 6:15 p.m.
The home-and-home series continues on May 7 in Lethbridge.
"If we can play that way like we did against LCI, we are going to be in pretty good shape," said Komery.