Golfers make way to links
Posted on May 2, 2018 by Taber Times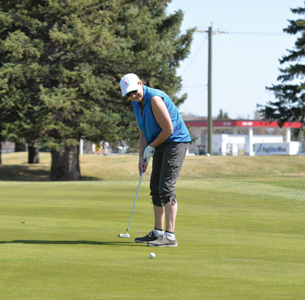 HITTING THE LINKS: Gerda Woudyijk finally had a chance to hit the greens with several of her fellow golfers last week, as the Taber Golf Club opened up the entire course on April 25. TIMES PHOTO BY COLE PARKINSON
By Greg Price
Taber Times
gprice@tabertimes.com
Good things come to those who wait.
And links enthusiasts had to wait a long time for the 2018 golf season to open at the Taber Golf Club.
The official first day of the season was April 23, one of latest opening dates in the history of the club due to Old Man Winter that did not seem to want to let go, with resulting extra moisture.
Given the traffic on the golf course the first week, people were eager to wake their clubs from their off-season slumber.
"Monday (April 23), we had golfers out steady until dark and Friday and Saturday was completely busy until 5 steady," said Erik Gerlock, head professional of Taber Golf Club. "They were very anxious to get on the course."
While golfers always come in bunches the first week the Taber Golf Club opens, Gerlock noticed a wave not commonly found of foot traffic.
"It felt like there more compared to past seasons. Everyone was anxious to get out there. We saw a higher number of green-fee players and people who don't usually come out as casuals that we don't usually get," said Gerlock.
The front nine were open on April 23, with the full course officially open on April 25.
"They worked hard on the front just to get it open and get a little play with people out there. The back nine is quite shaded with a lot of moisture staying back there," said Gerlock.