Raymond rampages over rugby Rebels
Posted on April 25, 2018 by Taber Times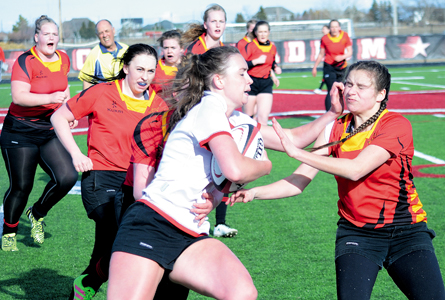 TOUGH TASK: Reagan Bailey of the W.R. Myers Rebels varsity girls rugby team tries to fend off a stiff arm while attempting a tackle last week in Raymond. TIMES PHOTO SUBMITTED BY GARRETT SIMMONS
By Greg Price
Taber Times
gprice@tabertimes.com
W.R. Myers Rebels varsity girls rugby team were thrown into the deep end to start its 2018 regular season with a 54-0 blanking at the hands of the Raymond Comets.
"We sure got our ass handed to us for sure. There are a whole bunch of excuses we can come up with, but at the end of the day, part of it is they have been able to be on their field longer (to train) than we were able to be because of the weather," said Chris Komery, head coach of the W.R. Myers Rebels varsity girls rugby team. "As far as the game goes, Raymond is Raymond and they did exactly what we thought they would do which is run fast and hard all over us to go with aggressive tackling. They are very well coached and they are very athletic. There is a very good reason why they have only lost one or two times in the last few years. They are a very good squad."
Trying to salvage the game as a learning experience and turning it into a positive, Komery added he had a pep talk with the team the next day as the squad looks to work on its skill set for this week's road game.
"The day after the game we had our game de-briefing as we always do. For the girls it was probably hard to find something positive in there, but I challenged them and asked them to find positives because we all knew what the negatives were," said Komery. "We walked away from that talk, focusing on three major things with our game this week with LCI."
Practising on Monday and Tuesday, the team hits the road today for a match against LCI at the Lethbridge Rugby Club, with varsity at 6 p.m. and junior varsity at 7:15 p.m.
The Rebels look to host its first home game of the season on May 3 against Winston Churchill Griffins at Myers field. Varsity starts at 5:30 p.m. with junior varsity at 6:45.