New head coach for HS Rebels
Posted on April 25, 2018 by Taber Times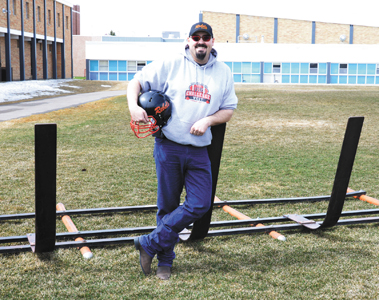 COACH'S CORNER: Jason Jensen will be the head coach of the W.R. Myers Rebels football team for the 2018 gridiron season, continuing to give back to a program he himself was part of as a player. TIMES PHOTO BY GREG PRICE
By Greg Price
Taber Times
gprice@tabertimes.com
The coaching staff of the W.R. Myers Rebels football team will see a lot of changes for the 2018 season.
Grabbing the reins for the head coaching position will be Jason Jensen, taking over from Adam Hughes, who wants to devote more time to his son.
"Adam Hughes has decided to take a bit of a step back, in order to allow himself more time to coach with the atom program, as he has a son on that team," said Jensen. "He's still going to be coaching with the high school team, but in the role of an assistant coach."
In addition to this, offensive co-ordinator Quintin Cheverie has decided to pursue some other coaching opportunities in Lethbridge, and will be leaving the Rebels program.
"Chev has put in a lot of time and effort in building this team, and deserves to be recognized for that. I wish him the best going forward," said Jensen, who coached beside Cheverie, as the defensive co-ordinator last season.
Filling the void as offensive co-ordinator for the high school team will be Garrett Simmons who has previously served as head coach of the Taber peewee and bantam programs in years past.
"I really believe that one of the biggest factors in our recent success was how well our coaching staff gelled, especially given that we were only a three-man staff, and that was something I kept in mind when considering Chev's replacement. Being that Garrett and I had a lot of successful years coaching together at the peewee and bantam level, and are close friends off the field, bringing him on staff was a no brainer," said Jensen. "We definitely know we can work together effectively, and given that, I don't expect that we'll miss a beat on the field."
For Jensen himself, who has served many years coaching in the Taber football system at many different age levels and also serves on the Taber Football Association (president) and Southern Alberta Minor Football Association (vice president), football has also been close to his heart, growing up in Taber.
"I couldn't be more excited to be the head coach at W.R. Myers. Anyone who knows me, or has heard me speak at banquets over the years, knows how much this team means to me, and I recently realized that to be in this position has kind of been a bucket list item for me since my own playing days," said Jensen. "You see, I found football at a time in my life when I really needed something to belong to, a place where I mattered, and had a purpose. Ever since then, I've felt like it was my duty to give back to the program that gave so much to me. Coaches like Wayne Pallet, and Chip Koop made a difference in my life that is tough for me to put into words. All I can say is that I am so honoured to be able to follow in their footsteps, helping to mould the current and future crops of Rebels players I can't wait to hit the field, and get things rolling on a new season."
Hitting the field will start April 30 with spring camp, for equipment handouts and fitness testing. That will be followed by practices May 1-3 and May 7-9, culminating in a jamboree in Medicine Hat on May 10.
"We have a lot of talent returning, and some pretty promising players coming up from the bantam ranks, and I'm interested to see what they can do at the high school level," said Jensen. "Of course, we can always use more players, and spring camp is a great opportunity to get a taste of football."
Anyone that is interested in playing football at W.R. Myers or would like more information on the program, can call Jason at 403-795-3469 or Adam Hughes at 306-620-3761.