Thibodeau team takes top honours
Posted on April 18, 2018 by Taber Times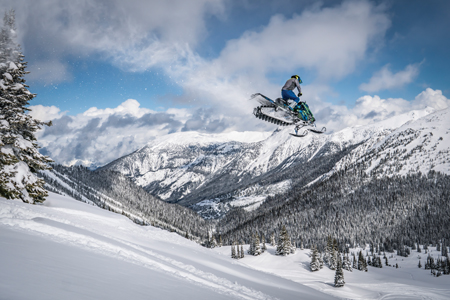 SNOW DAY: Local Logan Thibodeau was part of a fearsome foursome that earned first place at a recent back-country race. TIMES PHOTO SUBMITTED BY LOGAN THIBODEAU
By Greg Price
Taber Times
gprice@tabertimes.com
Logan Thibodeau continues to excel in extreme sport, as he was part of a snowmobiling team that took first place at the Riley Suhan Invitational back country race.
A new race this year, 44 riders came to the invite-only event which featured 11 different teams at Quartz Creek in Golden, B.C. earlier this month.
"There were teams of four and they combined the team's times and the fastest team won," said Thibodeau, adding teams were formed at random by drawing out of a hat after captains were determined in which Thibodeau was one of them.
Expectations were times would be around the 10-minute mark for the challenging course and Thibodeau's team was able to clock in on average around the low six-minute mark.
"You head up a creek drainage area into a big meadow, and then a big hill climb. Once you got up into that top section, we went into an area called The Fingers. It was pretty much like climb a chute, turn around and drop down a chute, turn around and climb a chute and drop a chute and climb a chute," said Thibodeau. "The course was pretty technical and challenging. At the end of your run, you were tired for sure."
The course was kept top-secret from riders until the day of, so competitors couldn't practice according to Thibodeau. Riders did get to practice a cold lap right before the race to get a viewing of the course.
"My strategy was to ride conservatively and consistent. I just wanted a solid time where I wasn't pushing myself to the point I'd crash and make a mistake. I just wanted to put a good time up on the board and the rest of my team did as well," said Thibodeau who rides a Polaris 800 Axys.
Another local Taberite entered the Riley Suhan Invitational as well in Travis Senkow whose team finished third and Senkow himself clocking the fourth-fastest lap time among the 44 riders.
Thibodeau hopes to continue to ride until mid-May. Thibodeau's rides have been featured predominately on YouTube and a Thunderstruck movie.
Thibodeau also entered a video competition this past fall with The Calling, featuring a season edit of all his best footage.
"The competition was pretty steep and we ended up finishing in second, that was a pretty big deal in my sledding career."