Pro wrestling making return to Taber
Posted on April 18, 2018 by Taber Times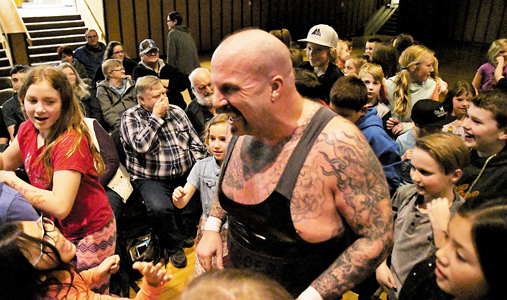 FAN FAVOURITE: 'The Tattooed Terminator' Massive Damage will be back in Taber on Friday night for Pure Power Wrestling at the Taber Community Centre Auditorium. ALTA NEWSPAPER GROUP PHOTO BY J.W. SCHNARR
By J.W. Schnarr
Alta Newspaper Group – Lethbridge
The last time Pure Power Wrestling came to Taber, a crowd of hundreds showed up and nearly tore the roof off the Taber Community Auditorium.
On the eve of PPW's Anniversary VII event in Lethbridge, Taber seemed like the perfect place to go to really get the weekend going. They will be back in the Taber Community Centre on Friday night, April 20, just one night before their big anniversary event.
"One night before our seventh anniversary (in Lethbridge), we're here to start the party early," said PPW brass Kevin Farrell.
The card will feature matches by the best PPW has to offer. The main event is going to be an all-out brawl between the Adult Social Society – featuring current PPW Heavyweight champion "Cougar Meat" Kyle Sebastian and possibly the biggest cruiserweight ever recorded, "The Big Sexy Beast" Bradley Graham – and long-time pals Travis "The Heat" Copeland and Taber favourite "The Tattooed Terminator" Massive Damage. Copeland also happens to be the current Cruiserweight champion, making this a "champion versus champion" match of sorts.
"I'm really looking forward to my return in Taber," said Damage. "I feel like the town – well the kids from a certain school anyway – have adopted me. I'm honoured to speak again, and I'm so pumped to tag with my homie Travis Copeland! It's going to be a great day, and amazing night!"
Graham seemed less than thrilled with the prospect of facing Copeland and Damage, and noted Damage's status as a "former" heavyweight champion and "current Dad-Bod Champ" Copeland.
He went on to note Sebastian was the current and "best looking Heavyweight Champion," while he himself is "the biggest, strongest, and sexiest Cruiserweight competitor out there."
"Massive Damage got lucky and got the win against me last time in Taber – and that was only by a hair," said Graham. "Massive has also lost to Kyle Sebastian multiple times trying to win our championship title back. So teaming with someone who is half the size of one of Sebastian's long, elegant legs isn't going to improve Massive's chances of victory in Taber again.
"End of the night, the Adult Social Society walk out with the win."
Also set to appear will be another fan favourite, Angelica, as she is set to renew her feud with Cat's Meow stable member "Psycho" Saraya Sawyer.
"The last time PPW set up in Taber, I was overwhelmed with such a warm welcome, and I am very excited to come back and give the fans in Taber another unforgettable show," said Angelica. "Women's wrestling has come a long way and it gives me great pride to step in the ring, showcase my passion and hopefully leave an impact on girls everywhere to inspire them to follow their dreams.
"Last time in Taber, I picked up the win against Sawyer, and I know she's been on the hunt for revenge. The Angel on Fire is ready to light another spark in Taber and looking forward to the roar of the crowd and some of the best fans in Alberta!"
Also on the card, Jumpin Josh is set to square off against 'Cowboy" Bryn Watts and fans can expect to see more of their PPW favourites such as Sydney Steele, The Killer Bee, and Kato. Hometown boy turned bad, Cyanide will also be in action. As he made no fans last time he was in Taber by throwing shade on his hometown, there's no reason to expect any less as he returns with manager "The Black Heart" Vinnie Valentine by his side.
Tickets are $10 in advance or $15 at the door and are available at Johnson's or online at purepowerwrestling.ca.