River Ridge all-stars named for St. Mary's
Posted on April 11, 2018 by Taber Times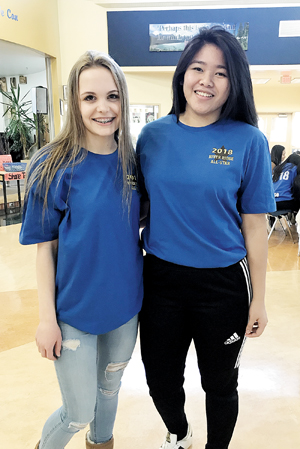 ST. MARY'S MOMENT: Hallie Horvath and Leila Pacleb were recognized for their River Ridge Basketball play for the 2017/2018 season. TIMES PHOTO SUBMITTED
By Greg Price
Taber Times
gprice@tabertimes.com
As spring sports are stalled due to the unforgiving nature of Mother Nature in 2018, some accomplishments still resonate from the basketball season that was.
All-stars and MVPs were given out from the River Ridge Basketball League which St. Mary's School competes in, with a handful of players receiving accolades.
Jobert Cruz was selected as Co-MVP of the league in helping run the Celtics offence.
"Jobert had three good years for us and as a player, he was our starting guard in Grade 10, and he continued that all the way through his Grade 12 year" said Ken Gabruck, head coach of the St. Mary's Celtics boys basketball team, adding Cruz had a flair for hitting momentum-shifting shots. This year he won some big ball games for us. He hit a couple of threes at the buzzer to win back-to-back games for us early in the season which got us on a roll."
Cruz's confidence grew in each subsequent year he played for the Celtics, culminating this year with his veteran leadership.
"He had confidence in his playing ability, saying 'hey I'm going to be the guy shooting it at the end.' He was never afraid to step up," said Gabruck. "Jobert was always a good ball handler, getting the ball up the court and into our offensive sets. An area he improved on over the years was he cut down on his turnovers as he progressed from Grade 10 to Grade 12, and when he put his mind to it, he was a very good defensive rebounder."
Mason Muller was a late bloomer when it came to basketball, having not played organized basketball until the previous 2016/2017 season.
But his natural athleticism came through with an all-star selection this year.
"He never started playing basketball until his Grade 11 year, but he has some great natural ability. He can jump out of the gym and has great knowledge of the game for not having played any junior high or even Grade 10 basketball," said Gabruck. "He was definitely a very welcomed addition last year and he just got better as his second season progressed. He helped with rebounding and his inside scoring which we needed. He was always a threat and teams doubled on him a lot. It made it difficult for him at times, but he battled through it."
An undersized player for what he was asked to do, Herman Wiebe nevertheless played with tons of heart and determination in gaining his River Ridge all-star selection.
"Herman was our go-to guy for all three years of his high school as far as rebounding goes, both offensively and defensively, especially for a guy that is not that tall. He is barely six feet, but he rebounded like he was 6-foot-3," said Gabruck. "He had a nose for the ball and a willingness to go into the tough areas."
On the girls side, Hallie Horvath and Leila Pacleb were selected as River Ridge all-stars.