Rebels split exhibition matches
Posted on April 11, 2018 by Taber Times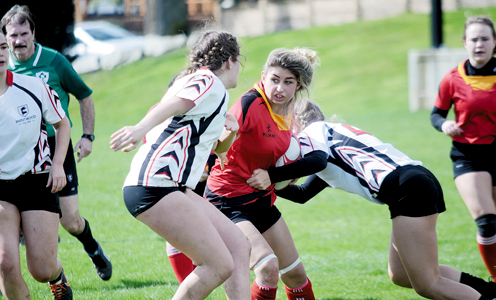 TOUGH BATTLE: Kenzie Deheer of the W.R. Myers Rebels varsity girls rugby team battles through would-be tacklers from Brentwood College during an exhibition match in Victoria, B.C. over the Easter break last week. TIMES PHOTO SUBMITTED BY GARRETT SIMMONS
By Greg Price
Taber Times
gprice@tabertimes.com
A two-match exhibition tour in Victoria is just what the doctor ordered for the W.R. Myers Rebels varsity girls rugby team.
Handcuffed by unrelenting snow storms that have gripped southern Alberta in recent weeks, the team had minimally been able to practice outside prior to the Easter break trip to Victoria that saw training sessions intertwined between exhibition matches.
The Rebels ended up going 1-1 in its two matches, starting off with a loss to Esquimalt who were powered by three Team BC players that dominated the play.
"They were impactful players, but I'm not going to use that as an excuse for that game," said Chris Komery, head coach of the W.R. Myers Rebels varsity girls rugby team. "We came out flat and a little disorganized. There were a few girls that were playing their position for the first time which I get. I have always preached to the girls that just get better the next time, and we absolutely were. Even at half time, you could see them step it up in the second half and play really well."
The sluggish start was understandable given the lack of field time the Rebels have had to endure, practising primarily at the school's gym, as Old Man Winter continues to take residence in southern Alberta.
"Whenever you are limited to a gym space for the majority of your training, and you can't take advantage of a full field in your practices to apply to games, I can't see how it can't hurt you at least a little bit," said Komery.
The Rebels first match served as the perfect template on what to work on in preparation for its second match which it won, tightening up the areas of tackling and support play that was lacking in the first.
"The big advantage of playing the first match when we did was that we could really see where we needed emphasis. We got a couple of really good training sessions in-between the two matches and concentrated on two local points," said Komery. "We tailored our practices to those two things (support play and tackling) and the girls responded really well in the second game. I was really happy with how we played the second game."
Another large snow dump made its way to Taber this past weekend, essentially wiping out any chance for the team's first match of the season that was supposed to be on the road on Thursday against Winston Churchill Griffins.
"For two obvious reasons we canceled that game. One, out of respect for the Humboldt tragedy, we postponed that game for primarily that reason. But the second reason was the fields are just not ready to play on," said Komery. "I texted the coach from Winston while I was in Victoria and she said their field is still frozen anyway. There was no way we were going to get the game off."
The match against Winston Churchill has been rescheduled for May 7, the Rebels' originally scheduled bye week. The Rebels were scheduled to have its home opener against Raymond on April 18.
"We are leaning towards contacting Raymond and seeing if we can flip home games. I think Raymond can play on their artificial surface," said Komery. "I don't think they will have a problem playing there. I just don't know what to say about this weather that is holding us up in our season."