Learning curve for Anderson
Posted on April 11, 2018 by Taber Times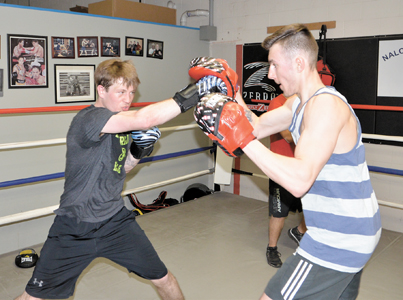 TIMES PHOTO SUBMITTED
By Greg Price
Taber Times
gprice@tabertimes.com
Boxer Brent Anderson got some much-needed experience at Canadian Nationals in Edmonton late last month.
Nationals represented Anderson breaking into the double digits for fights, where he faced off against a much more seasoned fighter in his loss to Jake Daoust from Ontario, that went the distance.
"He will be such a better fighter because of this. He stepped into the lion's den essentially, he was in deep," said trainer Joel Mills. "That kid is a multi-time (4) Canadian champion and has close to 100 fights under his belt. When you get to senior nationals, you are fighting some really heavy hitters."
Anderson may have had 1/10th of the boxing experience against his opponent, but showed just as much heart, losing the decision after three rounds in which Mills noted the local fighter gained strength as the fight wore on.
"He held his own and I couldn't ask for any more as a coach. He showed a ton of guts and didn't take a step back and kept a good attitude about the whole thing. I couldn't have been more proud of him," said Mills. "As the fight went on, he was coming on. I think that Jake kid was getting a little frustrated and discouraged and Anderson was learning he could hang with these guys."
It was Anderson's first fight without any head gear where TKOs and KOs can be more prevalent, as the loss pushed Anderson's record to 9-1.
"One thing I try and focus on is it's not always abut winning and losing, but about proving yourself and learning after every fight," said Mills.
Anderson will look to bounce back as he is the main event on April 28 for Toefista Boxing #28 at the Deerfoot Inn and Casino in Calgary. He will be joined by other local boxers which include Abe Dyck, Bart Zukowski, Ryan Harkness and Cory Matthews.
"We have been training these boys hard for about two months. I try and give these guys a little longer camp than you would see in the pros," said Mills. "Anything over eight to 10 weeks is too long for a professional boxer because you will burn out. But in amateur, these guys want to learn as much as they can. For a professional fighter, it's more about the physical, getting them in shape. But with these guys, it's more about learning and so you work with them for an extended amount of time."
Tickets for the April 28 fight card can be purchased at Pro Performance or by logging onto http://www.toefista.com.
It marks a continued string of fight cards featuring boxers from Pro Performance Athletic Centre which will also include an amateur card in Taber on June 30.
"I'm trying to build the best amateur stable I can, so these kids can have an opportunity to fight and learn," said Mills. "It's an unbelievable experience. Some people say it's going to be a one-and-done, I've seen it a million times, where boxing drags them back time and time again. It's an unbelievable thrill and it's super addictive. Once the boxing bug bites you, it's hard to shake."