Winter's bitter grip putting golf season on hold
Posted on April 4, 2018 by Taber Times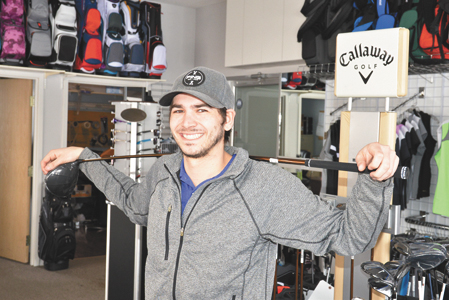 OFF COURSE: Erik Gerlock is new head professional at the Taber Golf Club. The start of his first golf season as head professional has been a trying one thanks to the unforgiving nature of Mother Nature in 2018. TIMES PHOTO BY GREG PRICE
By Greg Price
Taber Times
gprice@tabertimes.com
The Taber Golf Club has a new man at the helm in head professional Erik Gerlock.
Gerlock replaces Mike Dern after two seasons and it is the lack of the changing of the seasons that has proven challenging for Gerlock and maintenance crews at the Taber Golf Club, as links enthusiasts are chomping at the bit to get in the swing of things this spring.
"The superintendent (Mike Galvin) said wishful thinking was April 15 (for the course opening), but that was before our latest snowfall," said Gerlock in a Thursday afternoon interview with The Times. "It all depends on how fast we can get rid of the snow."
Talking with Galvin out on the grounds on Thursday as machinery moved snow around, he noted the golf course needs to see 10 straight days of plus temperatures to see golf in the mid portion of April and even that would be the best-case scenario as the golf course would need to deal with flooding issues from fast-melting snow, much like the town and the M.D. have in declaring states of emergency last week.
This past weekend's dump of snow likely makes best-case-scenarios unachievable at this point.
The delayed start of the 2018 golf season in Taber due to the icy and snowy grip of Old Man Winter is in stark contrast to recent seasons that saw starts in early March.
"For most golf courses, the start is April 1, but I believe last year it was March 20 for us and the year before that it was March 9," said Gerlock. "We have crews out there with tractors trying to clear out snow from the greens to get some moisture away. But, the superintendent was saying below all that snow, there's still a layer of frost from that first big snowstorm we had, then it got nice and then it snowed again. There's still a lot of frost left in the ground."
It has marked a challenging time for Gerlock who has moved from his assistant golf professional duties the season before to head professional this year. Gerlock brings plenty of experience with him to his new post, having graduated from the Golf Management Program at Lethbridge College in 2013. Gerlock has been working in the Taber Golf Club pro shop for five seasons and an employee overall since he was 13 years old.
When golfers are eventually allowed on the golf course after distancing themselves from the harsh winter, Taber Golf Club is offering a new 10-game punch card of nine holes for $100, with tee times after 2 p.m. from Thursday to Sunday.