All-star Rebels shine
Posted on April 4, 2018 by Taber Times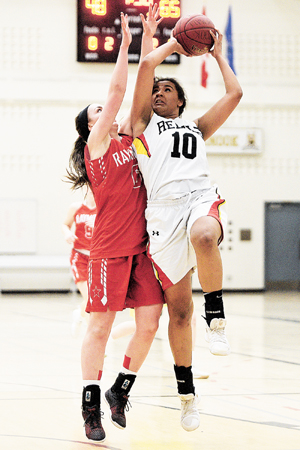 STAR POWER: Lyvia Jensen, left, on "Team Dark" tries to block a shot from Kitawna Sparks of "Team Light" during the Tony Roma's Southern Alberta High School Girls All-Star Game at Chinook High School on Wednesday night. ALTA NEWSPAPER GROUP PHOTO BY TIJANA MARTIN
Two W.R. Myers Rebels girls basketball players made their presence felt at the Southern Alberta High School Girls Basketball league all-star game in Lethbridge last month.
Austen Robbins and Kitawna Sparks were part of the depleted Team Light that was missing three players due to injury in a 109-96 loss to Team Dark.
Team Light featured players from W.R. Myers, Catholic Central, LCI and Magrath, with Team Dark featuring players from Cardston, Chinook, Medicine Hat and Raymond.
The dynamic duo were the leading scorers for Team Light with Robins scoring 18 points and Sparks adding 16.
The 2017/2018 league awards also featured Sparks as a First-team All Star.