Paint ball having a ball
Posted on March 28, 2018 by Taber Times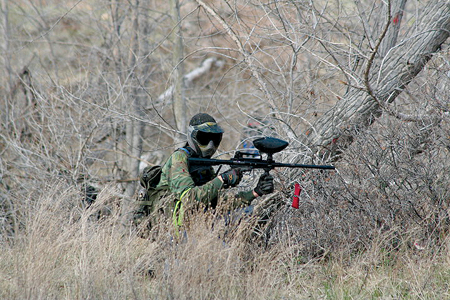 HUNKERED IN: As the weather warms, airsoft enthusiasts are looking to take aim in the southern Alberta region. TIMES PHOTO SUBMITTED
By Jared Williams
Taber Times
Paint-ball and even more so air-soft is something that a lot of people enjoy.
Living out various scenarios like capture the flag, or more elaborate ones based off of popular franchises like James Bond, make it so much more then just people shooting each other with fake guns.
"There are lots of different scenarios you play all depending on the number of people playing. Some of the most fun I've had is with very small groups where you can only use a small part of the field. You know that your team is so small every hit counts and getting knocked out of the game will make it a lot harder on what's left of your team. There are medium sized games. Last year a local team designed a game loosely based off of a James Bond movie. Each team has a base and a list of certain objectives to get. While the other team tries to stop you from finishing those objectives. There was around 35 players and everyone had a great time. The flip side is a really large scenario. Three years ago a group of players along with the T.P.A organized a 92 player game. It used electronic capture points just like domination in video games. It ran from five p.m. until midnight and the amount of players made for a lot of fun. Everyone working together with radios to ambush the other team or call in support made it a great time. It brought together players as far away as Edmonton to come and play at our field," said Eric Trudel, President of Tactical Paintball and Airsoft Association of Southern Alberta.
The numbers of participation overall are down for T.P.A, but many activities like air-soft are down due to the weak economy. The luxury of doing something like air-soft or paint-ball can be expensive, especially for the guns and other equipment you might need but as the economy is looking up in 2018, the memberships for activities like air-soft should also see a rise.
Taber and the M.D. area have a huge community for air-soft and it's only growing. Though, paint-ball has been in decline recently, likely due to air-soft becoming even more prominent because of video games.
We should feel lucky having a group in our community that supports things like air-soft, not only because it gives kids and adults alike something to do for fun, but it gives a chance for it to be in a safe, controlled environment. With around 50% of the members being below 18 and the other 50 per cent being over, it makes it easy to mix and match groups for the more experienced members to watch over the younger ones.
"It's good for Taber to have an approved airsoft and paintball field for a few reasons. The biggest is safety. It gets players away from playing in areas they shouldn't be. Airsoft and paintball guns look very realistic and could lead to tense situations if police are called. The other safety concern is people who aren't playing getting unintentionally hit from a paintball or airsoft bb. When you are wearing the proper equipment you're fine. But without people could end up losing an eye or getting teeth chipped," said Trudel.
Air-soft and paint-ball are things that can truly test your mind and body. Mimicking the military, safety is of the highest priority, but that doesn't mean you still can't have fun. Every summer things kick off at the T.P.A field with events like the ones mentioned above and even more thought up every year.