Athletics not just in body, but mind as well
Posted on March 28, 2018 by Taber Times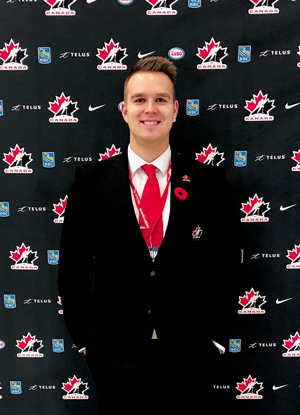 TIMES PHOTO SUBMITTED BY JOSHUA HOETMER
By Greg Price
Taber Times
gprice@tabertimes.com
The following story is extra copy that could not be fit into The Taber Times' jam-packed Insight magazine that was featured in February in The Taber Times. Extra copies of the magazine can be found at The Taber Times office.
Joshua Hoetmer has come full circle when it comes to the Vauxhall Academy of Baseball (VAB).
Once a slugging first baseman/DH for the VAB Jets in its inaugural year, Hoetmer was fascinated with the mental side of the game as worked on by the then sports psychologist who worked with the team.
Hoetmer earned his psychology degree at the University of Lethbridge, working in the motion and sports performance lab for two years, and then earning his masters degree in counseling and psychology.
Currently in his third year serving as a sports psychology consultant for the Vauxhall Academy of Baseball Jets, Hoetmer works on taking the young high school student's baseball game to its highest level possible.
"I work with athletes in developing their mental game. A lot of people get the misconception that my role is of a mental-health counselor, helping them with bigger mental health issues like depression, severe anxiety, suicide or stuff like that and that's not the case. My work is definitely performance based," said Hoetmer. "Taking the athlete's normal behaviours and turning them into super normal behaviours to meet their training needs."
There are the physical needs of elite athletes to excel such as proper weight training, nutrition and practice techniques, where Hoetmer's work comes in is honing the mental fortitude to stick to those regimes and how they approach the athlete's sport of choice.
"Technically, coaches understand what they need to do to teach kids how to throw, skate faster, all those things. Tactically, they understand the game, but as athletes get older and they start to get more experience and get to the higher levels of performance, it is the mental game that starts to separate those athletes," said Hoetmer. "When you get to the levels of high school baseball or the Canadian Hockey League, the skill sets are fairly evened out and the bodies start to even out. It's those who can use their bodies and their skills under pressure, those who can stay consistent when times are tough, those who can battle through when times aren't the best are the ones who will succeed. It's being consistent in the monotony of training, lifting weights every day and eating healthy every day. It's those types of things that will take the athlete to the next level."
Hoetmer has seen some athletes have long stretches of success in their chosen sport, and they think they have the game figured out. They then do not know how to cope when they hit a tough stretch.
"They wonder what's going on. Maybe they will stop their routines or they are not staying consistent. Maybe it's new challenges they haven't experienced that is affecting them in a certain way," said Hoetmer. "For younger athletes, sports psych is beneficial because it allows them to reflect and debrief and gives them a little more self awareness in what they experiencing. You are helping them essentially by just helping them figure it out for themselves in a way."
Baseball is known as the sport of failure, especially the offensive side. One can have a batting average of .300 and make the Hall of Fame, firmly entrenched in their minds that they failed to produce a hit in 70 per cent of their at-bats. If any sport is primed for a greater mental edge, baseball is certainly one that qualifies.
"It's really easy to get caught up in the seven out of the 10 you were not successful in, because maybe you broke a bat, or you struck out looking. You can hold onto that more than your three successful hits," said Hoetmer. "Sports psychology can help the athlete identify the game as moment to moment and not just look at the outcome all the time. Keep process focused of maybe this at bat didn't go well, but what can we learn from it and move onto the next at bat, same thing for pitchers. The last inning may have been bad, but move onto the next batter. You face a lot of the same people in baseball and you can build a mental catalogue."
Hoetmer used himself as a case study where more prolonged sports psychology could have helped his game when he played for the Jets. An absolute masher where you would see him go yard for the first few games in a tournament, the former Jet would see his playing time dwindle as the games wore on.
"I would sit because I would strike out on curveballs because that's all I saw for the rest of the weekend. I'd play the Friday night game, the Saturday morning game and then sit the rest of the tournament. They had a book on me," said Hoetmer with a chuckle. "It's looking for small wins every day and experiencing growth from that. I remember working with our sports psych consultant and you do the things you worked on with her and you think you have it figured out when you start the season hot and then all the sudden things happen and you start grasping at stars. Ten years later you look back and think 'if I had just stuck with what was working and been consistent.' I do use that anecdote with a lot of the guys."
Hoetmer feels a kinship with members of the Vauxhall Academy of Baseball as the young-students athletes find him very relatable, having gone through a lot of the same things, moving away from family to a small town to chase their baseball dreams to earn a full-ride scholarship or make it to The Show.
Along with the Vauxhall Academy of Baseball Jets, Hoetmer has done work with Hockey Canada and its U17 team through his work with the Alberta Sports Development Centre Southwest in Lethbridge. Hoetmer works primarily with athletes in Grade 9 through 12, and university.
Hoetmer added there are common traits found among elite athletes like the Lebron James, Sidney Crosby, Tom Brady and Mike Trouts' of the world apart from their physical gifts.
"A lot of it is the consistency in what they do every day. Obviously there is that resiliency, that cliché of mental toughness. There is the self awareness of knowing who they are, what they can do to get themselves back down to a calm performance in the zone. And it's just having fun with the game. How many athletes at the top of their game have said they absolutely hated playing it?," said Hoetmer. "You have to love and enjoy what you do. There are very few elite players that you watch and don't see enjoyment of the game when they succeed. Respect for the game is huge, pride for the game. Respect and pride of the game is reflected in your work ethic, your practice habits, how you handle media, the way you talk to staff, those things."
The mental skills Hoetmer helps teach the Vauxhall Academy of Baseball Jets players are transferable to other facets of their lives away from the diamond that can also help in later life.
"We don't call it baseball mental training, we call it mental skills training. You are developing skills that can help you in business, in life, in school. You just change the language. There is goal setting for baseball, now you are setting goals on passing the chem exam and study habits and so on," said Hoetmer. "You look deeper into it and you see sports psychs working with big businesses, big corporations, helping teams with their projects with self talk. At the end of the day you are still performing, whether it's business or the performing arts, it could be a big performance in a ballet performance or a musician. There are pre-performance nerves. It's all relatable, it's just making it applicable for the certain group."