Youngsters showing true GRIT with indoor soccer project
Posted on March 21, 2018 by Taber Times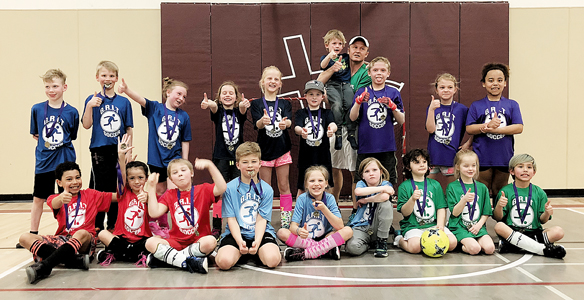 INDOOR FUN: With a new initiative in Taber this year, GRIT (Grass Roots Indoor Taber soccer) was featured giving kids a chance to play indoor soccer earlier this month which as you can tell by the picture, the kids really enjoyed. TIMES PHOTO SUBMITTED BY ALEAH WEISS
By Greg Price
Taber Times
gprice@tabertimes.com
A pilot project for indoor soccer took flight as six teams participated at Taber Christian School earlier this month.
"In December 2017, I started up some indoor soccer sessions for the youth in Taber. From previous years of coaching outdoor soccer in Taber and from coaching mini-soccer in the Southern Alberta Summer Games, I knew that there was going to be a lot of interest for an indoor season," said organizer Roland Cloutier. "We have now completed a dozen sessions with growing amounts of attendance, and held what I believe to have been the first indoor soccer tournament in Taber."
The initiative has been labeled GRIT (Grass Roots Indoor Taber soccer), as Cloutier emphasized the fun factor for kids.
"It was a huge success on so many levels, the amount of excitement and fun for the kids was great to see. I was amazed to see the engagement and support of so many people at the tournament. It was quite funny as we thought around 40 chairs would be enough, but we had to put more chairs out the full length of the TCS gym and there were still some spectators standing," said Cloutier. "It was a very special event, we had really cool G.R.I.T soccer performance T-shirts made locally for everyone and all the kids were given medals as well. Everything that we do I want to make it memorable for the kids. We have had many draws for various prizes over the season from free session passes, to dinner gift certificates to high quality soccer balls and on March 15 we are taking the kids to the Lethbridge Soccer Centre to see what I hope we will be able to have here in Taber in the future."
Cloutier has recently completed his Soccer for Life course from Soccer Canada which allows him to coach soccer all the way up to the tier (rep) level.
"I believe that this has been a positive happening for the youth in Taber on many levels, first off it has been a lot of fun, of course it is great exercise and I have also seen an increase in skills," said Cloutier. "I look forward to using this knowledge to help the kids enjoy the game and to develop their level of play. Soccer has transitioned from when I grew up, it does not need to only be a healthy activity option for two to three months of the year, it can now be for kids all year round."