Pond Hockey growing in popularity in Taber
Posted on March 21, 2018 by Taber Times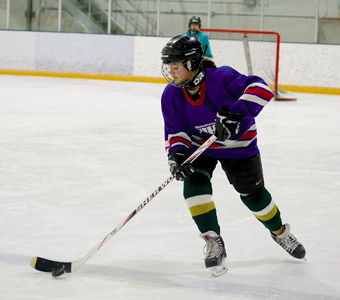 POND POWER: Annika Larman carries the puck up ice during recent Pond Hockey Tournament play earlier this month at the Taber Arena. TIMES PHOTO BY GREG PRICE
By Greg Price
Taber Times
gprice@tabertimes.com
It is a program that has been around for years in Taber to ensure everyone has a chance to play Canada's national pastime.
With legions of fans plugged into their television sets for the Winter Olympics or NHL playoffs, hockey is a passion like no other in the country. That passion for playing it was self evident at the Pond Hockey Tournament at the Taber Arena earlier this month.
The Pond Hockey program held its second annual single-day tournament on March 17 and has seen burgeoning interest.
"The tournament tried to grow this year. We have a group from Lethbridge and a group from Coaldale who have a similar program and they wanted two teams from each age group, but we didn't have the ice time for it this year. Next year, it should grow," said Tyler Vandergaag, organizer for the Taber Pond Hockey Tournament.
Taber was able to field teams in every age category as the drop-in for weekly pond hockey has been strong as well.
"Pond hockey gives a different flavour. It's not a more serious thing where we are trying to find that balance where you still want the kids to learn the skills of hockey and values of hockey of working together and respect, but also emphasize the fun factor," said Vandergaag.
There are no illusions of the pond hockey philosophy of trying to groom players for the NHL/pro-hockey with year-long hockey and camps, but rather simply building fundamental hockey skills and playing games once a week in the classic shinny style of backyard ice surfaces of old. Registration remains open for the entire season to encourage participation in many jurisdictions across the province that have pond hockey programs.
Minor hockey, in its traditional sense as found in Spud and Central Alberta hockey leagues, has seen its numbers dwindling overall in recent years where Pond Hockey has been able to fill the void for a child's love of hockey on a less regimented schedule.
"I'm not knocking minor hockey, it's a great thing for kids. But, I think their numbers have gone down these last few years and it's forced them to reevaluate what they are trying to do with minor hockey," said Vandergaag, who played hockey in Fraser Valley, B.C. "Right now there is no charge involved in it (Pond Hockey). So if people can't afford to play hockey, they can come and join Pond Hockey. It's a more relaxed atmosphere, but we do want you to learn skills and enjoy the game of hockey. I love hockey and I want to pass that onto the kids and give them some basic skills of life too."
The Pond Hockey season has concluded where the tournament was a nice exclamation point on the season. Taber had teams in Kindergarten-Grade 2, Grade 3-5, and Grade 6-9. Ice time was doled out evenly with a horn sounding for every shift for a new wave of players coming in.
"It works really well at the arena. You have your smaller groups and you have your bigger groups. Because you have the small and the large ice right there, it's awesome. You can get everything in, in a short amount of time," said Vandergaag.
"In the last two years, I'd say our numbers in Pond Hockey have almost doubled."
If you would like to learn more about Pond Hockey, you can e-mail Tyler at tyler.vandergaag@gmail.com.