Novice Oil Kings earn banners
Posted on March 21, 2018 by Taber Times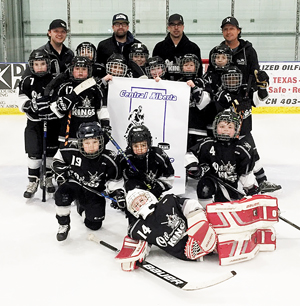 TOO LEGIT TO QUIT: Taber novice Oil Kings proved to be royalty in both league and playoff competition for the 2017/2018 minor hockey season. TIMES PHOTO SUBMITTED
Taber novice Oil Kings capped a successful season as both Tier III South East league and playoff champions.
The squad squared off against Duchess Storm in the Central Alberta Hockey League final and won 3-0 in the first game at the Taber Arena earlier this month.
Nixen Miller, Heston Hansen and Lincoln Wiebe scored for the Oil Kings. Dane DeGraw drew two assists.
The team then traveled to Duchess and earned an identical 3-0 win. Nixen Miller had a hat trick.
ATOM: Taber atom 'B' Oil Kings fell in the second round of its Spud League playoffs with two tight games against Lethbridge Ghostriders.
The team's first game was a 4-4 draw at the Taber Arena.
Damian Beswick had two goals and Blake Rabusic and Ryler Kiss had singles. Wieler Langhofer had two assists. The two-game point total series ended with an 8-7 victory by the Ghostriders in Lethbridge.
Beswick had four goals and Kiss, Tristen Egeland, and Zachary Fehr had singles.