Myers Rebels girls prove to be provincial power in Cochrane
Posted on March 21, 2018 by Taber Times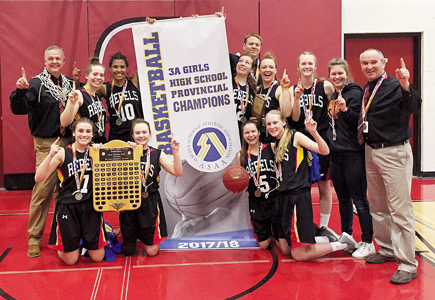 TOP TEAM: W.R. Myers Rebels varsity girls basketball team was able to battle from behind to take the 3A girls provincial championship, taking home another banner to put an exclamation point on the 2017/2018 season. TIMES PHOTO SUBMITTED BY KENNEY WOOD
By Greg Price
Taber Times
gprice@tabertimes.com
The W.R. Myers Rebels varsity girls basketball team showed immense resiliency in securing the 3A provincial banner in Cochrane, with a 63-53 victory over St. Peter the Apostle Spartans from Spruce Grove.
Trailing in every quarter heading into the fourth, the Rebels showed their heart by outscoring the Spartans 24-8 in the final frame to secure the championship win.
"We had to battle hard for this win. A provincial championship is never going to be given to you. We were behind most of the game, but were able to keep our composure and the team knew that if we continued to work hard on defense and take care of the ball, that we would catch up and pull ahead," said Kenney Wood, head coach of the W.R. Myers Rebels varsity girls basketball team. "St. Peter was playing very aggressively, which in the end got them into foul trouble. We could feel the momentum changing in the fourth quarter and we continued to make them play defensive on every possession. We hit just enough outside shots to keep them coming out, which then lead to us being able to get the ball inside."
Kitawna Sparks notched the double-double of 19 points and 16 rebounds. Austen Robbins acheived the same feat, with 12 points and 10 rebounds. Langley Moser chipped in 10 points. Alex Haller had nine points. Lauren Steed was perfect from the foul line (6-for-6) on her way to eight points and 11 rebounds. Dani Wright was also strong on the glass, with 11 rebounds.
"In the end, it came down to us being patient on offence and getting some really good looks at the hoop. St. Peter could feel it slipping away and started forcing their shots which weren't going in. Our rebounding in that quarter was outstanding and really limited any second-chance opportunities for them," said Wood. "Brandon, Marty, and I are extremely proud of everyone on the team. They came together as a unit and really focused on the final goal."
The Rebels started its provincial run in dominating fashion with an 82-46 victory over Bowness Trojans.
Everyone on the roster scored in the game, including Sparks registering 24 points and 19 rebounds. Robbins had 13 points and Moser and Haller both chipped in nine points.
"We came out quite tentative and we were tied after the first quarter. We had a good short chat during that break and refocused and came out strong," said Wood. "We rebounded quite well and were able to use transition defence to offence to get the ball down the floor. We continued moving the ball well in the third quarter. We finally shot close to 80 per cent from the foul line which is where we should be in every game."
The provincial semifinal proved just as lopsided in a 77-49 win over Wetaskiwin Sabres on Saturday. A second-quarter surge that saw the Rebels outscore the Sabres by 25 points put the game out of reach with a 30-point half-time lead.
Sparks had 18 points and 13 rebounds and Steed also achieved the double-double with 10 points and 10 rebounds.
Haller was leading scorer for the Rebels with 22 points and Robbins added 11 points.
"We played very good defence and controlled the boards. We moved the ball down the floor really well," said Wood, as the team was able to get in quality minutes for the whole bench heading into the championship final.
The provincial banner on Saturday has put a bookend on a strong stretch of seasons for the Rebels girls program that has included two provincial championships, two silver finishes, a bronze and a consolation championship to go with a slew of zone banners.
"We are so happy for our three seniors in Reagan (Bailey), Langley (Moser) and Lauren (Steed). What a way to end their high school basketball career," said Wood. "The Rebel program has really done well these past few years. Hopefully, the future Rebels can keep this up."