Rebels ship Colts to glue factory
Posted on March 14, 2018 by Taber Times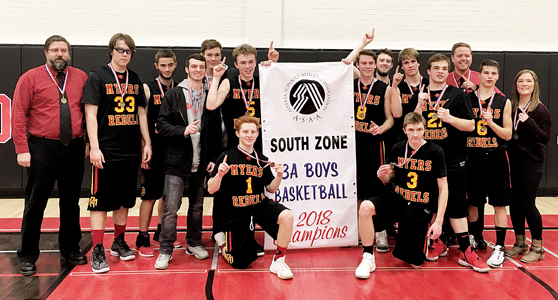 BANNER BOYS: W.R. Myers Rebels varsity boys basketball team played some of its best basketball of the season at the right time over the weekend, and in the process, brought home the 3A South Zone banner to the school. TIMES PHOTO SUBMITTED
By Greg Price
Taber Times
gprice@tabertimes.com
Third time was the charm for the W.R. Myers rebels varsity boys basketball team when it came to its arch nemesis, the McCoy Colts.
After falling to McCoy twice earlier in the season, the Rebels earned a 65-58 victory when it mattered most, in the 3A zone championship on Saturday.
"We decided to play defence and we had fans there to support us. I think in the end we just wanted it more than they did," said team co-captain Denver Terry in an interview with The Times on Monday prior to practice. "The first two times we didn't play them with a full squad, this was the first time ever."
"That definitely made a big difference," added co-captain Cole Layton.
Not an overly big team, the Rebels have been a squad that has relied on its athleticism and speed breaking down defences from the perimetre in. Terry attributes also a less selfish style of play that aided the Rebels as the team showed through and through the cliché of peaking at the right time.
"Our chemistry really seemed to click in our last game and we shared the ball a lot. We passed better and got better looks at shots rather than forcing it up and doing a one-man show," said Terry. "We had higher-quality possessions. We also got a lot of boards and second-chance opportunities."
Having lost to McCoy twice already this season and traveling into hostile territory with McCoy hosting zones, it made for a David versus Goliath feel where assistant coach Doug Leavitt noted the Rebels boys were in a relaxed mindset.
"I think the kids played very well on Saturday and came in with the right mind set. We made some adjustments from the last couple of games and those changes seemed to stymie their outside shooting," said Leavitt. "The boys got more comfortable with the zone that we were showing them. The kids bought into it and we were able to guard their shooters a lot better than before. When you play tight on teams and make them do things they are not comfortable doing, it helps. And there's a different pressure playing in the zone final than a regular-season game. There's a finality to it and playing in front of your home crowd, you are expected to win. The pressure was all on them and we played loose and performed well."
The changes Leavitt referred to was changing up its zone defence to more of a 1-3-1, putting more pressure on McCoy's previous comfort areas of the court shooting.
"McCoy had our number the first two games, but in neither of those games did we not think we could compete with them. It just took us a while to get into a little rhythm and momentum on the season. But we are peaking at the right time and the boys are coming together," said Greg Bowes, head coach of the W.R. Myers Rebels varsity boys basketball team. "Nothing against McCoy, I just think we outplayed them that night. In a one-game showdown, anything can happen."
What helped was the Rebels being able to shake off common sluggish starts, pouncing on McCoy right away. Having played them a week earlier, it helped making adjustments on the fly and made for the solid overall effort.
"It's always good to have adjustments in your back pocket and you be ready to go. We threw a few wrinkles in both on offence and defence and it paid big dividends on Saturday night," said Bowes. "Our seniors really stepped up. Cole Layton had a big game along with Denzel Gross. Denver Terry, I don't think he came off. When he got a black eye, I think that was his only sub, playing a lot of minutes. Everyone contributed at one point."
Gross and Brett Andrus combined to score 46 points for the Rebels.
The Rebels now depart for provincials which start Thursday in Cochrane. The Rebels go in as the 10-seed and face-off against George McDougall on Thursday.
The Rebels suffered a lopsided loss that game, but were also without Gross, Andrus and head coach Bowes for the game.
"We had a few things going against us. I'm confident that we match up well against them and it's a calming feeling knowing what they have and how we can match up," said Bowes. "We can prepare a bit before that match up."