Rebels girls rally to earn banner in OT
Posted on March 14, 2018 by Taber Times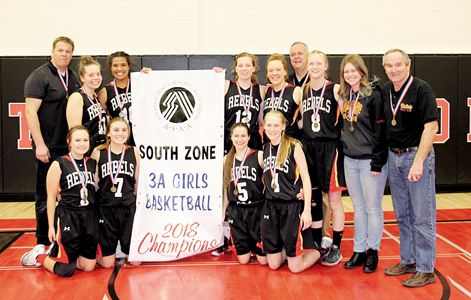 LONG ROAD TO VICTORY: W.R. Myers Rebels varsity girls basketball team battled tough against the hosts to take the 3A South Zone banner on Saturday. TIMES PHOTO SUBMITTED
By Greg Price
Taber Times
gprice@tabertimes.com
Although the W.R. Myers rebels varsity girls basketball team had already punched their ticket to provincials the game before, the rebels still provided plenty of drama on its way to achieving the 3A South Zone banner on the weekend.
Fighting off a poor shooting performance against host McCoy Colts in the zone championship game, the Rebels gutted out a 71-63 in overtime after being tied 58-58 in regulation.
"What a game. We had to fight and claw our way to victory in this game. We didn't have the best shooting game that's for sure. We were only 2-for-20 from the three-point line and 13-for-31 from the free-throw line," said Kenney Wood, head coach of the W.R. Myers Rebels varsity girls basketball team. "So being able to win that game shooting that poorly meant we really, really had to work. I think the key to our success in the game was the tough and very close games we have had in league. Those games prepared us for a tight game that we had. We kept our composure and never felt that we were out of the game. We just kept working and each quarter we got closer and closer to catching up. We came out in overtime with some great momentum and got a couple key stops and then converted on our first three possessions which really put the pressure on the Colts."
Kitawna Sparks poured in 30 points to go with 17 rebounds. Austen Robbins had a double-double as well with 13 points and 10 rebounds. Lauren Steed hauled in 10 rebounds and Alex Haller had 11 points.
Earlier, the Rebels dispatched Crescent Heights Vikings 79-48 in a contest that saw plenty of floor time for everybody.
"Everyone scored in this game and we were able to substitute quite freely. We came out very strong in the first quarter and gained the lead which we kept building on. In playoff games, we told the girls we wouldn't take our foot off the pedal until the final buzzer. I've seen too many teams assume a first-quarter lead will take them to the end of the game. So Brandon, Marty and I were happy to see the team continue to battle right to the end," said Wood. "The win in this game punched our ticket into the provincial tournament. This was a goal that we had set for ourselves at the beginning of the year and it also set up an opportunity to achieve another goal of winning the zone banner."
Sparks hit for 20 points and 10 rebounds and Steed had 10 points and 10 rebounds. Robbins chipped in 16 points and Dani Wright was top rebounder with 19 boards.
"It was a great win for the girls who have worked so hard all season long. We have been playing some pretty good basketball these last couple of weeks and hope to take this momentum into the provincial tourney. Brandon, Marty and myself are so proud of all the girls and are very excited for them to experience the atmosphere of provincials," said Wood.
Rebels girls are off to 3A provincials in Cochrane, March 15-17.