Trojans take home 2J banner
Posted on March 7, 2018 by Taber Times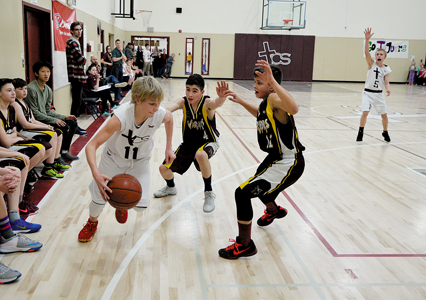 TIMES FILE PHOTO
By Greg Price
Taber Times
gprice@tabertimes.com
Barnwell Trojans boys basketball team capped off an undefeated season in league play and at zones by facing off against a familiar foe in Taber Christian with a 66-54 victory in the 2J championship.
The two gladiators have squared off five times in which the Trojans wins did not get any easier.
"Every time we played Taber Christian, they got better, they knew us, you could tell. They are well coached and they are big and can wear you down," said Dale Nielsen, head coach of the Barnwell Trojans boys basketball team.
Kevin Krizsan led the charge offensively with 26 points and 20 rebounds while Kade Jensen poured in 19. Kade Lund chipped in 10. Chase Jensen hauled in 11 rebounds.
Earlier in the zone tournament, the Trojans demolished Burdett 100-27.
"A great thing about a game like that is we get a lot of our bench in. We don't try and run up the score, but if the kids who haven't played a lot have done well, I'm not putting on the brakes. They are doing well and they haven't played much," said Nielsen.
A whole wack of Trojans scored in double-digits including Ty Nielsen (15) Krizsan (14), Chase Jensen (13), Kade Jensen (12) and Colby Torrie (10). Tucker Mouland hauled in 13 rebounds while Nielsen had 11 and Torrie had 10.
The Trojans made it to the zone final after defeating Livingstone 75-66 in a game the Trojans trailed deep into the game, but managed to battle back for victory.
"Them and Taber Christian were our two toughest victories on the season. We fell behind Livingstone and we were behind six points and the kids came back," said Nielsen. "Livingstone had a huge kid, like six-foot-7, who could play and was really strong. In order to get past them, it was definitely teamwork where they had our number for awhile. I wouldn't say that was our prettiest game, but sometimes you win pretty and sometimes you win ugly — it's still a nice feeling to get the win."
It was the same team the Trojans squared off against in the zone championship as they did earlier for the Horizon Basketball League Tier I championship, in the battle of the two Titans as the Trojans won 70-52 against Taber Christian.
Krizsan had 19 points and Ty Nielsen was a force on the boards inside on the way to being the team's second-leading scorer against Taber Christian.
"Taber Christian was really tough. They are a good team. (Before the Horizon championships), we had played for a week-and-a-half because of the school cancellations with the snow," said Nielsen. "We hadn't had a chance to practice a lot and I'm always a little nervous when we hadn't played in awhile. At the beginning of the game, all credit goes to Taber, they came out to play. They are big, they are huge, and it was really back-and-forth for the first three quarters."
According to Nielsen, the Trojans were able to bounce back from a rough start.
"Not only were our leaders able to get back in the groove, some of the other kids stepped up too," said Nielsen of Levi Wright's sharp shooting. "When the score was close, he came off the bench as our sixth man and he had three three-pointers and he really played well for us. He was a big difference maker in the game."
Trojans are off to provincials in Edmonton.