Rebels girls battle tested heading into zones
Posted on March 7, 2018 by Taber Times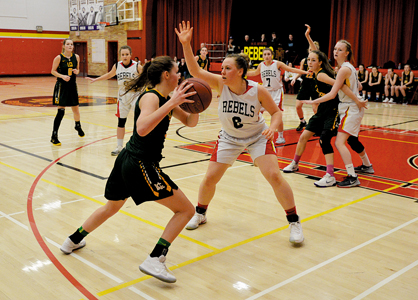 TIMES FILE PHOTO
By Greg Price
Taber Times
gprice@tabertimes.com
W.R. Myers Rebels varsity girls basketball team has had a flare for the dramatic recently in Southern Alberta High School Girls Basketball League play.
Last Monday (Feb. 26), the Rebels traveled to Raymond and recorded a tight 78-76 victory against the league powerhouse.
"We came into Raymond with nothing to lose. They are in first place in the league and they had all the pressure on them to win. As each quarter went by, and we were still in the game, the girls continued to play hard. The key to our win was that we were able to slow the game down and hit just enough outside shots that Raymond could not stay in the paint and just key on our post players," said Kenney Wood, head coach of the W.R. Myers Rebels varsity girls basketball team. "We played a great second half and beat them in both the third and fourth quarter. We hit a couple shots down the stretch that kept us up. A huge defensive stop by Langley (Moser) in the dying seconds of the game sealed the win. Marty, Brandon and I told the girls to come out and play hard and let's see where that gets us. It got us a win in Raymond and we'll take that anytime we can get it."
Kitawna Sparks poured in 32 points to go with 17 rebounds. Austen Robbins had 18 points and Dani Wright hauled in 10 rebounds.
Last Wednesday's battle (Feb. 28) with the Medicine Hat Kwahommies proved just as nerve racking, as once again the Rebels delivered a two-point victory, 81-79.
"Another tight one right down to the final buzzer. If these games aren't preparing us for zones and hopefully provincials, then nothing can," said Wood. "We had a number of players step up and give us some solid minutes, and put points on the board. For us to continue to do well, we will continue to need that. We cannot rely on one or two players for scoring, and we have been getting numerous players getting the ball in the hoop for us. Defensively we are starting to tighten things up, and are not allowing as many easy baskets as we have been. We still need to work on boxing out and cleaning up the defensive boards, but we are getting better. Hopefully we can continue to play in close games."
Sparks had another double-double of 28 points and 18 rebounds. Lauren Steed also had a double-double with 11 points and 10 rebounds. Sophie Simek had 13 points and Robbins chipped in 11. Rounding out the double-digit scorers was Moser with 10 points.
The busy two weeks continued with a string of three losses which included games against the Cardston Cougars (73-54), Chinook Coyotes (78-71), and finally LCI Clippers this past Saturday at home (76-52).
Sparks managed double-doubles against the Cougars and Coyotes, scoring a combined 33 points and 33 rebounds.
"We are just glad to make it through this past week without any injuries. We will prepare this week for our zone playoffs. Our first game is at McCoy on Friday night at 6 pm.," said Wood. "We will be playing Crescent Heights. We have not seen them yet this year so don't know too much about them. We will have a good chance to get some rest and to get some good practice time in before Friday. All the girls are ready for the zone tournament and are looking forward to our first game."