Celtics ready to enter the danger zone
Posted on March 7, 2018 by Taber Times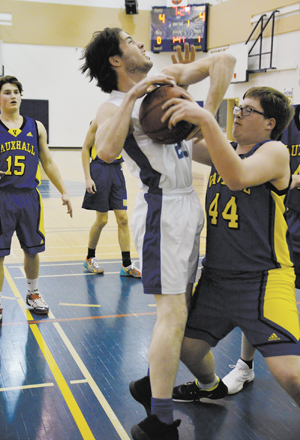 PAINT BALL: Herman Wiebe of the St. Mary's Celtics boys basketball team is fouled as he drives to the basket against a Vauxhall Vikings defender. TIMES PHOTO BY GREG PRICE
By Greg Price
Taber Times
gprice@tabertimes.com
It was a tale of two games for the St. Mary's Celtics in terms of their work on the glass that gave two very distinct outcomes for the River Ridge Basketball League playoffs.
"From the playoffs, it was quite evident rebounding was a key to our game both offensively and defensively. We try and play an uptempo game and run with the ball, but if you are not getting defensive rebounds, it's difficult to do," said Ken Gabruck, head coach of the St. Mary's Celtics boys basketball team's eventual 67-60 loss to Foremost in the final. "Offensive rebounding, you are getting second chances for putbacks and it also gives you the opportunity to get the other team into some foul trouble."
The Celtics rebounded exceptionally well against Vauxhall Vikings, hauling in 58 in the Celtics win, compared to 37 in the loss to Foremost.
"The lack of ball possession was a key factor in the game," said Gabruck, adding Foremost was up 34-32 at the half. "We had a 48-38 lead late in the third quarter which is quite typical where we get our point surge in games. But, we were outscored (heavily) in the fourth quarter which was a little bit of a disappointment."
Cobe Cobarubas had 13 points and Emmanuel Adra and Rodrigo chipped in 11 points. Joey Giesbrecht had 10 points.
Earlier, the Celtics were able to beat the Vauxhall Vikings 86-66.
Giesbrecht scored 16 points.
Rodrigo poured in 15 points and Cobarubas had 12. Mason Muller hit for 11 points and Donovan Passey had 10 points. Three players also recorded double-doubles in scoring and rebounding.
The Celtics now prepare for zones, while the Celtics go in as the number-one seed, nothing can remotely be taken for granted.
The team the Celtics just lost to in Foremost are the number-seven seed in the stacked 1A south zone.
"Sometimes a loss is another eye opener. We earned our favourable seed with our play against the top teams, but in this particular tournament, there are basically five teams that are ranked in the top 10 for the province," said Gabruck. "Any two of those five teams could come out (for a provincial berth). We are ranked number two, then you have three, four, then nine and 10. The strength is in the south this year. It's going to be tough, we are going to need to play three really good games."
The Celtics start its 1A zone run today at 8:30 p.m. against the winner of St. Michael's (8) and Picture Butte (9) at Lethbridge College.
If the Celtics win, they play on Friday at 5 p.m. at Lethbridge College.
The zone championship game goes 8 p.m. on Saturday.
The St. Mary's Auroras girls basketball team goes into its 1A zone tournament as the number-six seed.
They play against Erle Rivers (3) today at 8:30 p.m. at Lethbridge College. A win puts the Auroras playing on Thursday at 5 p.m. at Lethbridge College.
The 1A south zone girls championship goes at 2 p.m. on Saturday.