Anderson packs a provincial punch
Posted on March 7, 2018 by Taber Times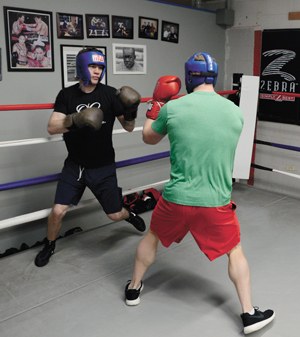 TIMES FILE PHOTO
By Greg Price
Taber Times
gprice@tabertimes.com
Still an infant when it comes to amateur boxing, Brent Anderson has grown up really fast in the ring on his way to a provincial title in Stony Plain late last month.
Boxing in two matches at 165 pounds on the way to the provincial title, results he gleaned from the fight card were common in his undefeated nine-fight career.
Anderson made the provincial championship final by earning a second-round TKO of Dustin Thompson, an opponent that is familiar to him, having defeated him at Taber's Unfinished Business boxing card as well.
"I've had a couple of fights against him before. Having those two fights almost put more pressure on me because the expectation of the win is a little higher," said Anderson. "It almost made the butterflies worse. He is sort of a stalker, plotter. I wanted to stick my jab in his face and set up my combinations off of that."
He earned his provincial championship with an unanimous decision over Matthew Ruff, a fighter that had no book on, making for a cautious first round.
"I was buddies with the guy who is the heavyweight champ who knew him pretty well, knowing he was a big kid who dropped down from 178 (pounds) and he's really slick, being able to fight southpaw and orthodox," said Anderson. "He wasn't slow, I was a touch bit quicker, but he wasn't slow."
Talks with corner man Joel Mills in the hotel room, was more defensive in the first round, wanting to see the arsenal that Ruff possessed.
"Then in the second round, I remember Joel telling me we have to grind it out because we need these next two rounds and we did and it worked," said Anderson.
Still a young pup in the boxing game, having some early success with an undefeated 9-0 record, Anderson keeps it in perspective, treating each fight the same.
"I'd say my calmness helps. I don't get over worked up. Still having a small track record, I'd say being able to put my combinations together has been a strength," said Anderson. "I understand what I've done is a crazy accomplishment, but I know there is going to come a time where I am going to get humbled. I'm not going to let the early success get to my head and get ahead of myself. You don't win and lose, you win and learn."
"I'd have to say, I think Anderson's biggest strength is being able to listen to instruction and then perform it. Never in my life have I worked with someone who listens so well and takes what I tell them and applies it to the fight immediately," said Mills. "Every time we spar, he comes back knowing a little more of my tricks, and if it keeps going the way it's going, then there will come a time that I will have to evolve to teach him new things."
Mills himself had 108 amateur fights, in which his first provincial title did not come until he was 14 years old, having started fighting when he was nine years old.
"I competed in provincials twice before I ended up winning it, before winning it four or five times in a row. It took quite the learning curve," said Mills. "What Anderson has done is amazing."
Switching to a pro-style scoring system, those combinations Anderson has, have helped where quality over quantity have been emphasized. That quality Anderson has delivered has made for a fight stoppage rate not commonly found in the amateur ranks.
"The fact he has nine wins and no losses is one thing, but the fact he has nine wins with multiple stoppages (six) as a young guy that is learning is a ridiculous accomplishment," said Mills. "It's pretty hard to stop fights in amateur with the head gear and with the 12-ounce gloves, not the 10-ounce gloves. You are looking at a guy that has started at the grassroots of amateur boxing and has a spectacular stoppage rate, that's spectacular for even pro boxing."
Anderson now prepares for nationals which go in Edmonton from March 28-April 1. The steep learning curve will continue for Anderson as nationals will mark his first fights without head gear.
"There's some butterflies there. I'm pretty intimidated going against the best in the country with very minimal experience. I'm really looking at it as a learning experience that I can take away something from it," said Anderson. "At the end of the day, the narratives will get to me. But, when I get to the ring, I feel an almost calmness, knowing there's always a puncher's chance. Especially with no head gear, one punch can change the whole dynamic of a fight."
As amateur fighting has flipped flopped back and forth between amateur and pro boxing scoring systems over the years according to Mills, strategy changes with it where boxers have to adapt.
"In a point-scoring system, the taller man has a gigantic advantage, because for the most part, the shorter man has to eat one or two punches on his way in before he can get his work done," said Mills. "But now they are scoring on a professional scoring system which is a 10-9 system. But problems can arise in the pro system to because there's a lot of opinion. It makes it not just about scoring. If it was just about throwing punches, you can throw 100 more punches than the other guy, and if you land only 20 of those punches, you are probably still going to win even though you are not being very effective."