Panthers power their way to league title
Posted on February 28, 2018 by Taber Times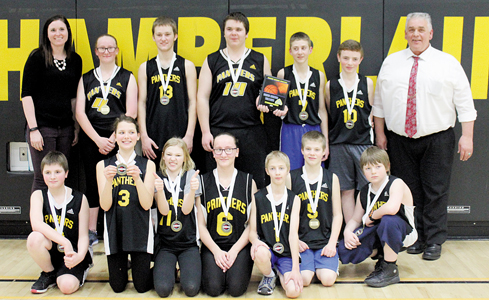 TEAM SUPREME: Back row L-R Taylor McKechnie, Susie Froese, David Dyck, Pancho Dyck, Dave Krahn, Johnny Friessen, Andy Puskas. Front row L-R Isaak Redekop, Mikayla Torsius, Trudy Klassen, Tina Froese, Jacob Redekop, John Fehr, Jake Friessen. TIMES PHOTO SUBMITTED BY ANDY PUSKAS
By Greg Price
Taber Times
gprice@tabertimes.com
Chamberlain Panthers from Grassy Lake prowled its way to the Tier II championship in Horizon Basketball League competition earlier this month.
They did so in impressive fashion, not dropping a game along the way in league play.
The Panthers finished off its perfect league season (11-0) with a 70-49 win over Barnwell Trojans at home on Feb. 12 to take the championship. Earlier the team beat Taber Christian in the semifinal.
"We definitely had size and numbers on the team with 13 kids. Some games we won by a lot and other games were a lot closer," said Taylor McKechnie, head coach of the Chamberlain Panthers. "I had a really good point guard too, he was very strong at shooting threes. I had four boys who shot over 50 per cent making their threes."
Also making the team more battle tested for league play was traveling outside its division by going to various tournaments. The Panthers played against Tier I teams in tournament play including bronze at a tournament in Bow Island.
"In that tournament, we lost to a Lethbridge city team by only two points in the semifinal," said McKechnie.
As players were able to gain lots of court time during the season, rookies were able to lean on the more veteran players.
"The team was made up of Grade 6s to 8s and the Grade 8s have played a lot of ball and that really helped shape some of our younger kids who got to play with the more experienced players. It brought them up a level pretty quick," said McKechnie, adding four girls also competed on the team. "I didn't have enough girls interested to have a girls team on its own. But in Horizon, you are allowed to have mixed teams, so it allowed my girls to still play this year."