Novice Oil Kings have a banner hockey season
Posted on February 21, 2018 by Taber Times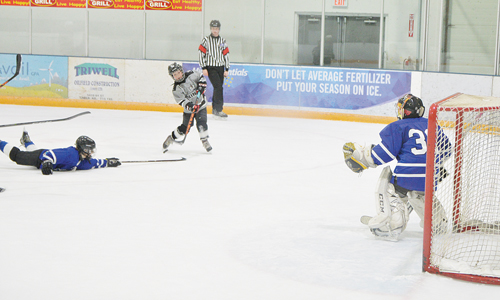 SHARPSHOOTER: Ayden Umbach lifts a quick wrist shot at a High Country Rockies netminder during Taber atom Oil Kings play earlier this month at the Taber Arena. TIMES PHOTO BY TREVOR BUSCH
By Greg Price
Taber Times
gprice@tabertimes.com
Taber novice Oil Kings ruled its subjects on the way to winning the Central Alberta Hockey League banner this year, with its latest game being a 12-6 doubling of Irvine Bulldogs at the Taber Arena on Sunday.
Nixen Miller had seven goals in the win and Dane DeGraw had a hat trick. Cruz Duell and Heston Hansen had singles. Raiden Koizumi drew two assists.
ATOM: Taber atom 'B' Oil Kings skated to a 7-7 draw against the Lethbridge Bandits at the Taber Arena on Saturday.
Damian Beswick had four goals in the tie and Zachary Fehr had two goals. Blake Rabusic rounded out the scoring with a single.
PEEWEE: Taber peewee Oil Kings recorded a tie and a loss in Central Alberta Hockey League play on the weekend.
The tie was a 7-7 draw against Oyen at the Taber Arena on Saturday.
Evan Koizumi and Heath Hansen both had two goals apiece. Connor Eldridge, Hayden Span and Devan Loewen had singles. Walker Skiba and Kellen Lauwen had two assists apiece.
Sunday's tilt was a 4-2 loss to Irvine Bulldogs on the road.
Evan Rabusic and Kyler Marchuk scored for the Oil Kings.