Former Taberite relishing the role of the bad guy in the wrestling ring
Posted on February 21, 2018 by Taber Times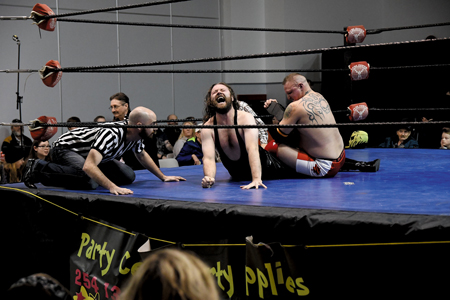 PRO POWER: Cyanide screams in pain as 'Wildchild' Tyler James attempts to force a tapout with an ankle lock submission during a 2017 event in Lethbridge. ALTA NEWSPAPER GROUP PHOTO BY J.W. SCHNARR
By Greg Price
Taber Times
gprice@tabertimes.com
Editor's Note: The following story is extra copy that could not be fit into The Taber Times' jam-packed Insight magazine that is featured in this week's issue of The Taber Times. Extra copies of the magazine can be found at The Taber Times office.
Dustin Church has been giving powerbombs of entertainment as part of his stage mystique as bad guy 'Cyanide' with Pure Power Wrestling in Lethbridge.
Growing up for most of his formative years in Taber in his youth, becoming a professional wrestler was always a dream of Church who is an avid fan of sports entertainment.
"For as long as I can remember I'd wake up Saturday mornings, not for the cartoons like most kids, but for the WWF and Stampede Wrestling that would come on in the afternoons. Everyone has their favourite matches, but for me what really stands out was the personalities. Especially the heels (bad guys). I can recall as a kid being so mad at the TV every time someone like Ted Dibiase or Ric Flair would come on," said 36-year-old Church. "I still watch as much as possible, however getting in the ring and training always comes first."
Church came late into the game in stepping in the squared circle, starting as a pro wrestler three years ago in which he found the tryout process daunting.
"I signed up and attended an open tryout camp with Pure Power Wrestling in Lethbridge. It was a weekend-long ordeal that almost felt designed to chase people away rather than recruit," said Church. "Getting through those two days was one of the most difficult experiences of my life both mentally and physically."
But getting through he did and his persona of Cyanide was born that he keeps to this day. While the 'bad guys' always evoked the most emotion out of Dustin Church when he was a kid, it was that showmanship that has always appealed to him in creating a character.
"I am a villain now, and hope to always be. The baby-face good guy gets the love from the crowd, but I've always been fascinated by the great heels. It's an interesting challenge to make people hate you, but in a way that they still want to see you," said Church. "It's such a spectacle top to bottom. So many people get caught up comparing it to boxing or MMA. Pro wrestling is such a fantastic blend of athletics, showmanship, and drama that you just can't get anywhere else. It is a very tight-knit community."
"You very much have to earn your place, but if you do, you don't just gain a spot in a community, you gain a family."
That family includes the fans where Church says as a villain in Cyanide, it gives him more of a chance to interact with the crowd in his fiendish ways to win at all costs.
"It's always important to engage the crowd, I do so verbally as much as possible. An amazing wrestler/mentor out of Edmonton's Monster Pro Wrestling once said something to me very early on that I've never forgotten," said Church. "If you forget about the crowd, they're going to forget about you. The fans are everything, and I try to make them as much a part of the match as myself or my opponent."
Regular families have their feuds and so too do pro wrestler families to give some extra storylines to get the crowd on their feet as the drama unfolds.
"I do have a finishing move, but I don't think I've ever won a match with it. Cyanide cheats to win," said Church. "As far as a nemesis, I just came off of a nine-month feud with a wrestler named Travis "The Heat" Copeland out of Fort Macleod that culminated in a Tables, Ladders and Chairs match for PPW's Cruiserweight Championship."
While some critics in spots circles call it fake and 'just' sports entertainment, Church encourages the naysayers to take step into the ring to feel the physical demands that are anything but 'fake' in the demands that pro wrestling sports entertainment entails.
"The physical demands are so much more than people think. Every aspect of it is taxing on the body. A lot of people have themselves convinced that it's all 'fake' and that the ring is like a trampoline," said Church. "It's always amusing to me when I get to show a critic the ring, how it's constructed of just layers of steel beams, and 2×6's. Sorry folks, no springs here. We are usually in the ring two days a week."
The pro wrestling fight game in the three decades Church has both witnessed and/or participated in, in southern Alberta, Church finds a more discerning pro wrestling fan now than in decades past.
"It has certainly changed since I was young. Fans now are so much smarter, people know what they're watching. The days of smoke and mirrors are past, and we've had to adapt to continue to entertain," said Church. "It's interesting to me to see aspects of pro wrestling in other sports. Two big examples are Connor McGregor of the UFC and boxing great Floyd Mayweather, those are two of the best 'wrestling' personas I've ever seen."
Those personas in the southern Alberta circuit have its 'groupies' and sometimes overzealous fans who combine fantasy with reality a tad too closely, although those cases are few and far between.
"They do have groupies, but that's something that the young guys deal with," said Church with a chuckle. "I've heard stories (confrontations with fans who take the match too seriously), however I think it's pretty rare these days. As I mentioned earlier, the fans are much more in tune with what we are doing out there, and do a very good job of knowing what is 'a part of the show'."
Cyanide has been able to keep his body relatively unscathed in his many matches over his three years comparatively to other wrestlers you hear stories about. Nevertheless, the bumps and bruises have bee many with the physicality of pro wrestling.
"I have had many minor injuries, but overall have been very fortunate to work and train with true professionals. The worst injury was a mistake involving a steel chair that resulted in me biting a hole clean through my own tongue," said Church.
Despite the grind at times of balancing a private life, a work life and a pro wrestling life, Church is still fully committed to making sure pro wrestling is a big part of his life.
"I started very late, 33 years old at the time of my first tryout. I'm approaching three years in the business now, which in the grand scheme of things makes me very much a rookie. I keep going for many reasons, wrestling has been a life-long love, and getting to literally live out your childhood dreams does not happen very often," said Church. "The family (of wrestlers) have put so much time and effort into helping me learn the ins and outs, and even though, as mentioned, I'm new, I still feel as though I owe pro wrestling a debt and am very much looking forward to the day when I can help some young (or old like myself) people break in and live their dreams too."
Church concluded it is like night and day when you see his persona of Cyanide in the ring and Dustin Michael Church out of the ring.
"I'm just a normal guy honestly, father of an overly energetic five-year-old, and nearing the 10-year mark in my relationship with my amazing partner Jessica, who by the way without her support none of this would have happened," said Church.