Dupont takes Ladies Bonspiel in dramatic fashion
Posted on February 14, 2018 by Taber Times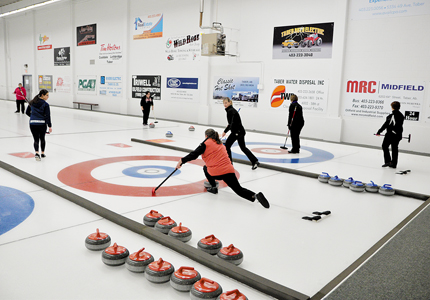 TIMES FILE PHOTO
By Greg Price
Taber Times
gprice@tabertimes.com
Several teams came out to compete at the Taber Ladies Bonspiel which concluded this past weekend at the Taber Curling Club.
In one of the best 'A' event finals in recent years at the Taber Ladies Bonspiel, there was plenty of drama between two Lethbridge teams as skip Nanette Dupont had a come-from-behind victory to earn the championship with teammates Kendra Nakagama, Shirley Kohuch and Avice DeKelver.
Down by two late in the match, Dupont managed to steal two in the seventh end and another in the eighth to win 5-4 over the rink of Karen Morrison, Val Leahy, Shirley McPherson and Olga Fyfe.
Taking third in the 'A' event were the foursome of Taber's Mae Kanomata, Cindy Kanomata, Gina Turcato and Venisa Garner.
In fourth was Taber skip Elsie Sasaki and team Amy Nakamura, Taylor Bexte, and Erin Betcher.
Leading the way in the 'B' event were the Taber team of Andrea Makarchuk, Heather Paterson, Shannon Clarke and Kristy Coulter.
Medicine Hat's Michelle Titas skipped her team of Colleen Howes, Laurel Lund and Shurron Powell to second place.
Taber's Hollis Pickerell was third with teammates Mallory Nakamura, Nicci Rasmussen and Toni Oseen.
Vauxhall's Jo Jones was fourth in the 'B' event, along with Suzanne Finlayson, Cindy Kurek and Nevada Huvenaars.
Championing the 'C' event were Taber's Lace Dupont, Devon Fournier, Bobby-Jo Kerkhoff and Leanne Friesen
Claresholm's Vanessa Wever along with Connie Quayle, Darcy Blair and Kirby Quayle took second place.
Taber's Roberta Sebok along with fellow foursome Donna Weiss, Latisha Schmid and Janessa Sebok finished in third for the 'C' event.
Fourth place was Betty Gilbert, Charmaine Nelson, Cara McMurdo and Amber Kalleh.