Celtics plundered by Vikings in River Ridge
Posted on February 14, 2018 by Taber Times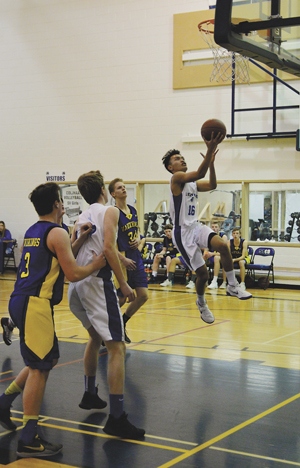 TIMES FILE PHOTO
By Greg Price
Taber Times
gprice@tabertimes.com
Due to Old Man Winter's wrath late last week, the Celtics did not participate in a tournament at Immanuel Christian this past weekend.
The team did battle the Vauxhall Vikings at home early last week, and were unable to sweep the season series with a 76-69 loss.
"It was a close game all the way with it being two or three points for the most part the entire way. We just weren't able to close at the end," said Ken Gabruck, head coach of the St. Mary's Celtics boys basketball team, as the Celtics were up 37-32 at half-time. "They outscored us 23-13 in the fourth quarter which was the difference."
Jobert Cruz had the hot hand for the Celtics, pouring in 33 points, including eight baskets from beyond the arc. Herman Wiebe added 10 points and Mason Muller chipped in seven.
"Jobert had a great game shooting, but we didn't have anyone else step up to help it out at all," said Gabruck.
The Celtics battle Milk River at home tonight at 7:45 p.m. in the team's last league home game, followed by the Family Week break.
The Celtics are set to host the River Ridge BasKetball League boys playoffs March 1-2 leading up to zones.
"We really need to up our game a bit. We just haven't been getting a consistent effort from everyone," said Gabruck. "We definitely have some Grade 12 experienced players that really need to step up, and more enthusiastic and aggressive play from them in the next three weeks if we are to advance past zones."