Rec board pushes to fix small ice arena
Posted on February 7, 2018 by Taber Times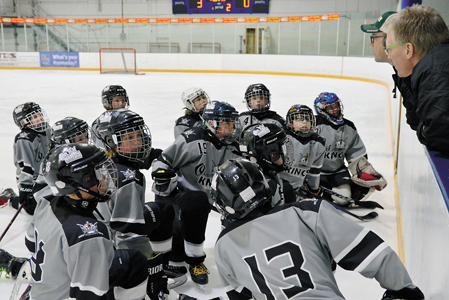 LOOKING FORWARD: The coaching staff of the atom 'A' Oil Kings gives a pep talk to its players between periods of its recent home tournament at the Taber Arena. After months of deliberation by the Taber Recreation Board, its recommendation is to renovate the small ice arena as opposed to building a second large ice surface like the Taber Arena. TIMES PHOTO BY GREG PRICE
By Greg Price
Taber Times
gprice@tabertimes.com
After months of consultation with user groups, the Taber Recreation Board has made its recommendation to town council on the future of ice sports in town.
Surveys were sent out to ice user groups regarding three options available in response to the deteriorating state of the small ice surface a the Taber Arena.
Overall feedback pointed to renovating the existing small ice surface as opposed to other options involving creating a second large ice surface at the Taber ice arena. It is a sentiment the Taber Recreation Board echoed in an unanimous motion at its Feb. 1 meeting.
A study was sanctioned by MPE Engineering last year showing exactly how much disrepair the small ice arena was in, which is approximately 40 years old.
Building code, safety, program space, equipment condition and operational issues were all identified.
Three options were presented including direct replacement, expanding the current building north to allow for regulation size and having a whole new separate building for a regulation-sized rink.
Replacing the small ice came in at a price tag of $1.51 million with the other two options costing approximately $5.04 and $6.96 million respectively.
"Madam chair, I think at some point we are going to have to make a decision and give a recommendation to council moving forward. We've had the user groups in, we have asked for input from administration," said Louie Tams, town councillor and recreation board member on the need to not have paralysis by analysis in giving direction on the issue to town council.
"It seems to me at our last meeting (in December), we had a really good discussion on this. We had user groups attend in the past and the general consensus was that let's renovate the existing small arena," added Garth Bekkering, town councillor and member of the Taber Recreation Board.
"That was my take on the discussion. Ideally, a large second arena would be endorsed, but at $6 million dollars, I don't think it's even worth recommending that to council."
Tams' only moment of pause was wanting to hear first the results of a recent Occupational Health and Safety (OHS) review of town facilities including the Taber Arena.
Aline Holmen, director of recreation, noted on issues popped up with the arena, with the town passing the OHS audit quite satisfactorily.
"Where does it fit into the current (town) budget," inquired Tamara Miyanaga, the M.D. of Taber council representative on the Taber Recreation Board.
Holmen confirmed any work that would be done stemming from the suggestions by the original MPE Engineering study have not been factored into the town's 2018 or 2019 capital budget.
Danielle Hansen, chairperson of the Taber Recreation board added some user groups did identify plenty of use for the small ice arena to meet their specific needs.
The small ice arena is approximately 40 years old with noted various aspects of the rink that are in visibly poor condition which present operational/safety issues. There is an access ramp that is too steep to serve as a fire egress according to current building codes.
A gate at the east end, that when opened, blocks access to the fire exit from the spectator stands. Also, there is insufficient current fire alarm systems, and there are current dasher boards which are not constructed to current guidelines for full-contact hockey at the small arena.
The physical condition of the existing dasher boards are in poor condition, with cracking visible in the board throughout, and gaps in the boards near the corners and gates according to an MPE report. The corners of the boards have too small of a radius for the Zamboni machine to flood along the boards, resulting in patches in the corner that must be flooded by hand. The concrete slab for the ice surface is cracked in several places and is not level, requiring the difference to be made up with thicker ice. There are also many locations where the surface of the slab has been worn down and the rebar and slab cooling piping are exposed.
These issues would be addressed in renovating the small ice arena with the estimated $1.51 million price tag with the MPE engineer.
There is the option of simply leaving the small ice as is and hoping its it lasts as long as possible as a useable facility which was frowned upon by both administration and the recreation board.
"If we do leave the small ice as it is without fixing that floor and putting new brine lines in there, we have a lot of cracking in that (floor). You do see that slab moving. It's a waiting game to see when exactly and if the brine lines leak or break," said Trent Smith, recreation manager for the Town of Taber. "We've already had a few breaks over last year. No one can predict how long it's going to last or not last, however, we have a lot of user groups that are dependent on that ice rink now. Just leaving it up until it does break, we would be turning away a lot of user groups and they would have to go to other places to fulfill what they have set out in their contracts. Ultimately, we should always be ahead of the game in making sure we can provide what the user groups need."
Tams added the small ice failing will not be at a perfect time in the summer when the facility is not being used, but rather likely during its peak usage, smack dab in the middle of hockey season.
"There is no way we are going to be able to fix that problem in the dead of winter without it becoming a real increased cost," said Tams. "I agree with councillor Bekkering. The great thing would be to build a second ice surface, but I don't really see that happening in the near future. The user groups said they liked that small ice surface and if it's fixed we can utilize it better. I think we really have no choice, but to recommend to council to fix that small ice surface that we have and to do it fairy quickly. Let's not wait for disaster."
Taber Recreation Board passed unanimously to direct the board chairman (Danielle Hansen), and vice board chairman (Darcy Firth) to attend the next council meeting (late February) on behalf of the recreation board to request consideration for renovation of the small ice arena facility in the MPE investigative report.