Rebels girls take bronze at Rebel Classic
Posted on February 7, 2018 by Taber Times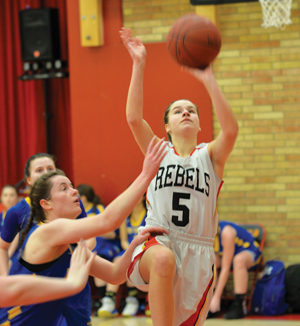 TWO POINTS: Reagan Bailey goes up for a layup during game one of the Rebels Classic on Friday night. TIMES PHOTO BY COLE PARKINSON
By Greg Price
Taber Times
gprice@tabertimes.com
W.R. Myers Rebels varsity girls basketball team earned bronze at its Rebel Classic home tournament on Saturday.
The Rebels were pushed to the third-place game after suffering a tough 68-63 loss to Brooks Buffalos in the semifinal.
"We really struggled offensively to get things going. Brooks was able to stay in a zone defence most of the game because of our poor outside shooting. We were 11 per cent from the three-point line and that will never win a game. We were getting good shots, but they were just not dropping in. If we made a couple of those shots early on, then the game would have been different," said Kenney Wood, head coach of the W.R. Myers Rebels varsity girls basketball team. "We fought hard right to the end and we had an opportunity to tie the game up, but once again a good shot did not fall. The team was very disappointed in not getting to the finals, but as luck would have it, the team we thought we'd meet in the finals also had a stumble in the semifinal and so we got to play McCoy Colts as we had hoped, just not in the game we were hoping for."
Kitawna Sparks had 17 points and 10 rebounds in the loss. Austen Robbins had 11 points and Dani Wright chipped in 10 points.
There was no doubt in the bronze-medal game as the Rebels rebounded nicely to beat McCoy Colts 75-55, racing out to a 22-point half-time lead which the Colts never recovered from.
Sparks had 22 points and 10 rebounds in the game. Robbins hit for 16 points and Lauren Steed added 10.
"We were able to come out quickly on the Colts and cause a few turnovers which lead to a couple easy baskets. We also worked the ball into the paint and got the inside game working with our forwards," said Wood. "Defensively we played quite well, we challenged most of their shots and then got a lot a defensive rebounds which limited McCoy's second-shot opportunities. Everyone was able to play a lot of minutes and was able to contribute to the win. McCoy as always played pressure basketball right to the end, they press whether they are winning or losing."
"We have played them a number of times over the years and we know what to expect from them. It's always a fun game, lots of energy and usually high tempo. I expect the next time we see them will be in the zone championship game and then hopefully in the provincial championship game. We have seen them the past few seasons in those games and I expect this year to be no different."
The Rebels faced little resistance in its opening game in a 80-19 demolishing of Bert Church Chargers.
Four players finished in double-digit scoring with Sparks pouring in 18 points and Reagan Bailey and Steed both scoring 14 points. Wright had the double-double of 12 points and 10 rebounds.
"There was lots of excitement to start the tournament. The team ran out to music, spotlights and a great crowd. All the girls were a bit nervous to get going in the Rebel Classic. We were able to get the game well in hand by the end of the first quarter ,and everyone was able to get a lot of playing time and everyone got on the score sheet," said Wood. "We unfortunately did not get the Rebel Classic championship this year, but we did get better and we are building towards our goal to hopefully be at the top of our game in march. After the disappointing loss in the semifinal, Marty, Brandon and I were so proud of the girls for coming out in the third-place game and taking care of business. A lessor team could have just thrown in the towel, it really shows the kind of character of our team has. We have a great bunch of girls who always want to do their best and as coaches, you can't ask for much more than that."
Earlier last week, the Rebels upended Medicine Hat Kwahommies 76-69 i Southern Alberta Girls Basketball League play.
Sparks had a monster game, pouring in 38 points while shooting 65 per cent from the field. Also recording double-doubles were Robbins with 13 points and 10 rebounds and Wright with 10 points and 10 rebounds.
"Wow, what a game. We were expecting up tempo, but weren't quite prepared for how fast they wanted the pace to be. They pressed us from the starting tip-off, right until the final buzzer," said Wood. "We were able to battle off some early foul trouble and were able to keep the score close. The third quarter we really worked hard to limit their second-shot opportunities and we were able to work the ball inside to Kitawna. she had a great game and they had a very difficult time containing her offensively. Our guards were able to make some really good entry passes to her which enabled her to catch the ball very close to the basket. Once she had it, she was able to convert almost everything she shot."
The Rebels hosted Magrath Pandas on Tuesday with results unavailable at press time. The team travels to Catholic Central on Feb. 12 before returning home on Feb. 14 to host Cardston Cougars. Junior varsity is at 6 p.m. with varsity to follow at 7:45 p.m.