Tournament looking to be a Classic
Posted on January 31, 2018 by Taber Times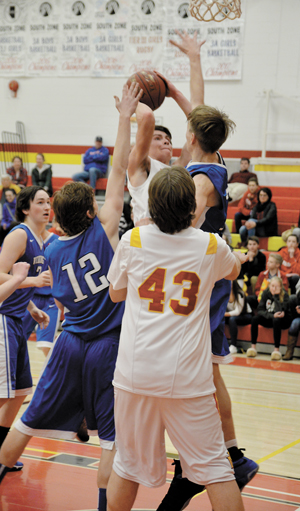 PLAY MAKER: Cole Layton and the rest of his W.R. Myers Rebels varsity boys basketball teammates will be looking to make some noise at the Rebel Classic. TIMES PHOTO BY GREG PRICE
By Greg Price
Taber Times
gprice@tabertimes.com
Plenty of high-end basketball will be made available for hoops fans this weekend, as both W.R. Myers Rebels varsity teams host the 11th Annual Rebel Classic.
The 16-team event kicks off with a skills competition on Friday at 4 p.m. Twelve players from each team will compete in three different events which include the dribbling/lay up challenge, three shooters for the hot-shot challenge and one shooter to compete in a free throw game of 'Five in the Bucket.'
The girls draw is a very competitive one, featuring four provincially-ranked 3A teams. They include host W.R. Myers (1), McCoy (2), Wetaskwin (4) and Brooks (6).
"We are looking forward to a great weekend of basketball. We are looking to defend our title from last year and look to this as a challenge and possibly a future match up of teams that we hope to see at zones and provincials," said Kenney Wood, head coach of the W.R. Myers rebels varsity girls basketball team.
The Rebels first game is at 6 p.m. against Bert Church. Wins will have the Rebels playing at 10:45 a.m. on Saturday against the winner of Stirling/Brooks. The championship final goes at 5:45 p.m. with all three noted games at W.R. Myers.
W.R. Myers Rebels boys team kick off its tournament run with a game against Kate Andrews Pride at 7:45 p.m. Wins will have the Rebels battle the winner of Wetaskiwin/Bert Church at 12:30 p.m. on Saturday. The championship boys game goes at 7:30 p.m. with all noted games at W.R. Myers.
During the run of the tournament, games will be featured at W.R. Myers, St. Mary's, D.A. Ferguson and Central gymnasiums to accommodate the 16-team field, with each team guaranteed three games.
Team awards will be given to the champions, finalists, third-place winners, and consolation winners from each gender.
An MVP and five All-Stars will be awarded from each gender. The MVP and All-Star awards will be selected by a tournament committee.