Gymnasts go State side for tournament
Posted on January 31, 2018 by Taber Times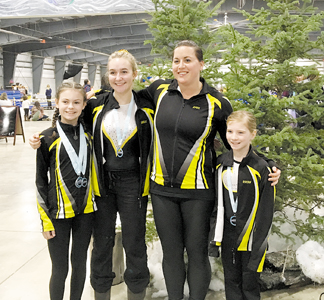 ROAD TRIP: Taber Gymnastics Club competed for the very first time south of the border and proved to be welcomed guests with their sportsmanlike behaviour while earning some podium finishes as the club continues to make further forays into competitive gymnastics. TIMES PHOTO SUBMITTED
By Greg Price
Taber Times
gprice@tabertimes.com
Taber Gymnastics Fitness Club competed in its first event of the season, and it just so happened it was the first time the club went south of the border earlier this month.
"It was pretty cool and different in a couple of ways. The judges were glad we came because they said they have judged an international competition," said April Klassen, a competitive gymnastics coach with the Taber Gymnastics Fitness club with a chuckle. "There was one other Canadian team there which was from Okotoks. The judging was pretty consistent (to Canadian). We have the Junior Olympic Program (JO), and they have been doing it for the last 10 years in the United States and we've only been doing it for the last two, so they gave us a little more insight into a couple of areas because they have been doing it for so much longer."
The event was featured in Kalispell, Mont. with a dozen different teams competing. Making the trip were Camryn Coney (JO Level 6), Rowyn Coney (JO Level 6), Tayla Silver (JO Level 6), Blaze Hansen (JO Level 4), Jahlee Daisley (JO Level 3), Tayla Hansen (JO Level 3) and Rhyan Hazell (JO Level 2).
Podium finishes were given for top-five finishes. Local top finishers included Tayla Hansen who was fifth in vault and beam.
Camryn Coney took third all-around and thirds in vault and beam while taking fifth on floor. Tayla Silver earned fourth on beam and Blaze Hansen was third on vault.
"Competitive levels go up all the way to 10 which is high performance," said Klassen. "You advance levels by demonstrating certain skills. A level-three bar routine is a glide swing, pullover and then back hip circle. It's all progressive in difficulty."
Klassen has been happy to see more girls get into competitive gymnastics as the Taber Gymnastics Fitness Club is still in its relative infancy at its new home downtown.
"Tara (Coney) has levels one and two and I train levels three and up. Tara is progressively getting a few more and then they get bumped up to me which is good to see," said Klassen. "We are getting there gradually with increases."
The club's next competition is in Medicine Hat (Cactus Classic) on the Feb. 24 weekend.