Wrestler recounts grappling with addiction
Posted on January 24, 2018 by Taber Times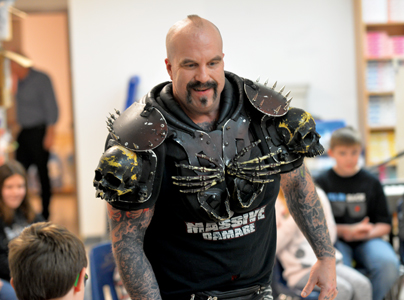 FIGHT FOR LIFE: "The Tattooed Terminator" Massive Damage made his grand entrance wearing his signature wrestling gear before he began his talk with Dr. Hamman Grade 5 students. TIMES PHOTO BY COLE PARKINSON
By Cole Parkinson
Taber Times
cparkinson@tabertimes.com
Before the stars of Pure Power Wrestling took over the Taber Community Centre on Friday night, one wrestler made a stop at Dr. Hamman School to bring awareness to drug and alcohol addiction.
"The Tattooed Terminator" Massive Damage aka Sean Dunster had a message for Dr. Hamman Grade 5 students about how drugs and alcohol have affected his life as well those around him.
Dunster first started wrestling in the 1990s and in the early days he, as well as some of his friends, had become addicted to drugs and alcohol.
One of his best friends at the time, Shane, introduced him to painkillers which he took after matches to help ease the pain of the rigours of the ring.
Shane would eventually succumb to his addiction which furthered Dunster's downward spiral with drugs and alcohol.
"That was my best friend, I miss him everyday," said Dunster, as he held back tears during the presentation at Dr. Hamman.
"You would think that would smarten a guy up, seeing that happen to my friend and I was heading down that same path. Unfortunately for me I was so sad, those pills made me feel better and if anything it made me go the other way so I started taking more pills and drinking more. I started doing worse drugs and messed up my life."
Another one of Dunster's friends, Trevor, was also an addict.
His drug of choice was ketamine and Dunster says they eventually went their separate ways because of the drug.
"We went our own ways, I couldn't really be around that. I saw what it was doing to him and he had two little kids and I saw how his kids reacted, it really bugged his kids," added Dunster.
After he received a call informing him of Trevor's passing, he realized it was time for him to clean up his life.
"After Trevor passed away, I took about a year off from wrestling and to reflect on my own life. Finally out of nowhere I had to sober up so I went and got myself into treatment. This year in July will be nine years since I did drugs or alcohol," said Dunster.
Dunster created Edmonton's Monster Pro Wrestling in 2002, with the help of Trevor, and he started a program called "Fight For Life" to spread awareness of the harm alcohol and drug addictions can cause.
"I have a program called Fight For Life and that's why I'm here today talking to you. I've already fought for my life so today I came here to fight for your lives," added Dunster. "As a wrestler and a role model, we have to do more things like this. If you make it anywhere in life, you should always give back which is what I always try to do."
With the Fight For Life program, he has visited countless schools across the province along with other Monster Pro Wrestling athletes.
While Shane and Trevor may have passed on, Dunster has kept their memory alive with tattoos on the back of his calves.
"There's not a day that goes by in my life that I don't want to say hi to those guys."