Pro wrestling scores a big body slam with fans
Posted on January 24, 2018 by Taber Times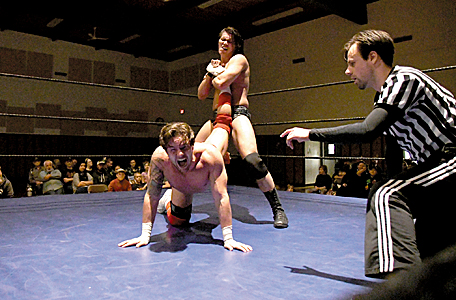 TWISTED: 'The Real Deal' Sydney Steele screams in pain as Heavyweight Champion 'Cougar Meat' Kyle Sebastian bares down on an ankle lock submission hold during Pure Power Wrestling in Taber on Friday. SOUTHERN ALBERTA NEWSPAPERS PHOTO BY J.W. SCHNARR
By J.W. Schnarr
Southern Alberta Newspapers – Lethbridge
Pure Power Wrestling invaded Taber last week, and the town was ready for them.
A crowd of hundreds packed the Taber Community Centre Auditorium Friday night to take in the action.
PPW has been in operation in Lethbridge for more than six years, and it had been more than a year since the last PPW show in Taber.
Kevin Farrell, part of the PPW ownership group, said organizers were surprised, but very impressed with the turnout.
"We don't really know what to expect when we do some of the out of town shows," he said. "But the people of Taber showed up, and they delivered. We sold out entirely of our advance tickets, and we still had probably twice that many people show up at the door."
One of the reasons for the big turnout was an anti-drug talk given by PPW talent "The Tattooed Terminator" Massive Damage, at Dr. Hamman School on Friday. A very high number of fans in the crowd were young people.
Farrell said community outreach and volunteerism is part of the professional wrestling tradition.
"It's really important for us to get out there and share our various experiences with the next generation," he said. "Massive Damage was drawing on his past life experiences, just to help give a positive message for the kids coming to our shows."
Taber's hunger for live pro wrestling is part of what appears to be a resurgence in Alberta and beyond.
This province in particular has a long and storied tradition of sports entertainment going back to the founding of Stampede Wrestling by Stu Hart in Calgary in 1948.
"Pro wrestling and indie wrestling is really strong right now in southern Alberta," Farrell said.
He noted there have been strong turnouts in both Lethbridge for the monthly PPW shows and in Medicine Hat for a recent Canadian Wrestling's Elite (CWE) tour. With its numbers and enthusiastic crowd, Taber can also be added to the list.
"I think there's a real appetite for wrestling in southern Alberta," he said.
The event opened with a match between Taber's meanest son, Cyanide against fan favourite Jumpin Josh.
Cyanide has earned a reputation for being vicious in the ring, and it didn't take long for him to turn that vitriol on the crowd.
"Ten years ago, I moved out of this town," Cyanide said to the crowd. "And it was the best damn thing I ever did!"
It was up to Josh to defend the honour of Taber, and, after sustaining a beating, he used a lightning-fast rollup pin to secure the victory.
The next match saw the feline-friendly Kato facing off against "Nasty" Nate Nixon. Kato had the help of his ringside partner "Psycho" Saraya Sawyer, and it didn't take long before Nixon was tapping out to Kato's ankle-lock submission.
In the first women's match seen in Taber in more than 30 years, Sawyer was back in the ring to take on crowd favourite Angelica. The two were evenly matched for much of the fight, but Angelica's power was on display when she escaped from an armbar submission by powerbombing Sawyer to the mat and eventually earning the win.
The first title bout of the evening featured Cruiserweight champion Travis "The Heat" Copeland putting his belt up against "Cowboy" Bryn Watts.
Watts has done everything in his power to knock the champion off his pedestal in recent months.
At times, Watts seemed more interested in intimidating the crowd and the referee than winning the match, and Copeland was able to retain his title.
While not the main event, the biggest draw for the evening was a heavyweight bout between "The Big Sexy Beast" Bradley Graham and Massive Damage.
Fans immediately took to their feet, screaming and chanting "MASSIVE!" "MASSIVE!" while Graham danced and gyrated in the ring, generally making everyone in attendance uncomfortable.
At one point, Massive lit the crowd up with chants of "Taber Rocks!"
While the pair are evenly matched in terms of power, there was no stoping Massive on this night, and he was able to secure a victory.
The Main Event featured a title match between Heavyweight champion "Cougar Meat" Kyle Sebastian and "The Real Deal" Sydney Steele.
Pound-for-pound, these could be two of PPW's best performers, and they exchanged one devastating blow after another before Sebastian, taking advantage of some in-ring confusion, was able to hit his patented Panty Dropper finisher on Steele and keep his belt.
Pure Power Wrestling is planning to be back in Taber on Apr. 20. But for those who can't wait for more local wrestling action, their next Lethbridge Show will take place at the Fritz Sick Centre in Lethbridge on Feb. 17.
"If fans enjoyed the show this past Friday, they are going to get more action on April 20," said Farrell. "But if they weren't at the show, ask a friend, or someone who was there. It's an experience you absolutely have to witness."