Celtics continue to be 1A powerhouse
Posted on January 24, 2018 by Taber Times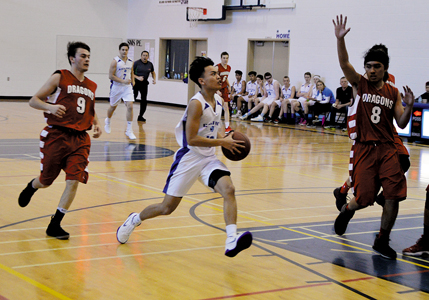 TIMES FILE PHOTO
By Greg Price
Taber Times
gprice@tabertimes.com
St. Mary's Celtics earned the title at its home tournament in a battle of two 1A provincial powers.
The Celtics managed a 80-69 victory over Stirling in the championship game involving two provincially-ranked teams that were tied at the half.
"It was a great game where both teams played really well and really hard. But, I think again it came down to our depth that showed in the third quarter. We went 11 deep throughout the game and we outscored them 29-20 in the third quarter which was the difference," said Ken Gabruck, head coach of the St. Mary's Celtics boys basketball team. "We got their top layer in foul trouble early in the fourth quarter. I thought we had our best effort all year. Everyone worked hard and we got some good help-side defence on their top player and we controlled the boards on both ends."
Four Celtics managed double-digit scoring with Joey Giesbrecht pouring in 15 points. Cobe Cobarubas had 13 points. Donovan Passey and Carl Rodrigo both had 10 points each.
The Celtics had an easier path to its championship final through no fault of its own as one team from the eight-team field withdrew at the last minute, making for a bye into the semifinal for the Celtics. There the Celtics made quick work of St. Michael's from Pincher Creek 72-37 in an earlier game Saturday.
"It wasn't necessarily a mismatch, but we had a lot more guys who can compete than they did. We controlled it right from the start, we were up 20 at half," said Gabruck.
Jobert Cruz hit for 16 points and Mason Muller had 11 points.
The tournament title pushed the Celtics record to 13-3 and a ranking of third among 1A schools in the province for boys basketball.
Being exam week, there are no games for the Celtics this week. The team does play a make-up game on the road Jan. 29 Senator Gershaw Gators from Bow Island. The team goes to Black Diamond for a tournament on the Feb. 2 weekend and then follow that up with a tournament in Immanuel Christian on the Feb. 9 weekend.
Always looking for ways of improvement, Gabruck is keeping his team grounded and working on the little details that will ensure the Celtics make some noise when 1A zones and a possible provincial berth come around in March.
"I think our press break hasn't been as good as it has been," said Gabruck. "The fact that Stirling (ranked fourth provincially in 1A) beat us by one in overtime earlier in the year, I'm sure we will see them again in a tournament final or on the way to a final somewhere. We will have to remain sharp."