Jets alumnus remembered fondly by peers
Posted on January 17, 2018 by Taber Times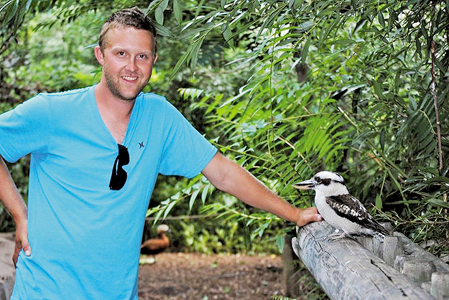 HEART FELT: A kindred spirit who loved to travel, Scott Hornstra, a member of the Vauxhall Academy of Baseball in its inaugural year, tragically lost his life to a snowboarding accident on New Year's Eve. TIMES PHOTO SUBMITTED
By Greg Price
Taber Times
gprice@tabertimes.com
A pioneer who helped blaze the trail to help make the Vauxhall Academy of Baseball (VAB) what it is today, Scott Hornstra tragically lost his life to a snowboarding accident on Dec. 31 in Whitefish, Mont.
Hornstra played for the VAB Jets in its inaugural year before moving on to a have a tremendous college career at Colby CC in Colby, Kansas, then Mississippi Valley State.
Hornstra was a huge part of the Jets success in 2006/2007 as a standout shortstop and closer. At Colby, Hornstra was a 1st Team All JayHawk, 2nd Team All JayHawk, First Team All Region VI and Freshman of the Year.
He was also a star basketball player that helped lead Vauxhall High School to the provincial championships.
"You look back to 12 years ago with our first year, Scott was certainly a trailblazer being one of the first-ever Jets. But, what stands out for Coach K (Jim Kotkas) and I's minds probably as much as anything was Scott was never the biggest, strongest or fastest player, but he was extremely talented and extremely competitive," said Les McTavish, head coach of the Vauxhall Academy of Baseball Jets, who attended Hornstra's funeral and reminisced about Hornstra the player. "He was very very athletic. He was one of the best basketball players Vauxhall has seen. He played shortstop, second base or third base with us and he closed out games and could start a game on the mound. He was good at everything he did athletically and he brought out the best in other people, too. Other players and friends and coaches, it didn't matter who it was, they seemed to rise up around him because he brought out the best in everybody."
Hornstra's impact was felt off the diamond as well, with McTavish noting the many, many people who attended Hornstra's funeral in his Celebration of Life at First Christian Reformed Church in Rocky Mountain House.
"Scotty would light up the room when he came in. When we would have a team meeting and everything was serious, he would be able to crack a joke at the right time to loosen everyone up before a big game or when things were nerve racking. He knew when to be serious and he knew when to get after things," said McTavish. "Scott was one of those kind of guys, that if you were stranded on the side of the road, he was the guy you would call because he would drop everything and come and get you. If you needed help moving a couch or do whatever, he was always there to help you. It was so touching, there were so many people at the funeral, it was incredible. There were a couple of Vauxhall academy players that I had not seen since Year One. He touched so many people. He will not be forgotten, that is for sure."
Known as a free spirit that was always on the move and would roll with the punches, McTavish recounted a story where Hornstra travelled to Thailand and made it an extended stay.
"It was supposed to be a two-week holiday and it turned into four months and he turned into a master scuba diver. He had 80 dives in four months and became a master scuba diver. Everything he did, he was really good at," said McTavish. "It sounded like he was doing really good in his career as a foreman of a pipeline company. He was a successful young man and it was unfortunate and sad the accident happened."
Mark Clauson (former Jets teammate, Colby teammate and best friend of Horn's had this to share of Facebook):
My heart is heavy writing this but I wanted to say some words about Scott. I'm going to do my best to define who this man was and what he stood for. Keep in mind, words always fall short when it comes to matters of the soul.
Scott had a diverse list of interests and an equally long list of aspirations.
He loved to travel and explore, go to concerts and sporting events.
He loved to play sports, among them was baseball, where he made many life long friends.
He loved to snowboard and gallivant through the backcountry during the winter and he recently enjoyed a love for the open water.
He found joy in spending time with friends and family and was always willing to crack a cold one to good times.
I think his heart was always in Alberta but that didn't stop him from travelling all over the world.
He was a fierce friend who showed loyalty regardless of the situation.
I was lucky enough to spend a lot of time with Scott and witnessed first hand his endearing love and enthusiasm for life.
Scott was snowboarding in whitefish on Saturday where they received a foot of fresh over 24 hours. I know he was with friends, it was a beautiful day, and that he was without question getting his fill of face shots. I can hear him hootin' and hollerin' on his way down.
Cheers to you my friend.
Scott Hornstra is survived by his mom Rhonda, father Robert, brother Mark and sister Carly. In lieu of flowers, the Hornstra family asked donations be made to the Vauxhall Academy of Baseball where a scholarship will be awarded in his honour.