Wrestling coming to Taber's squared circle
Posted on January 10, 2018 by Taber Times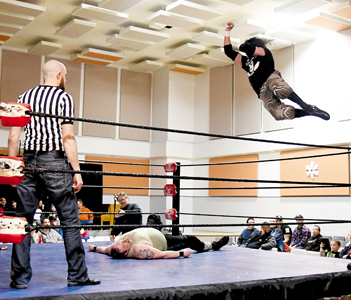 AERIAL ASSAULT: Chris Perish comes off the top rope to nail The Irishman with a flying elbow during a Last Man Standing match on Dec. 30 in Lethbridge. The stars of Pure Power Wrestling are ready to take on Taber Jan. 19 in the Taber Community Centre Auditorium. SOUTHERN ALBERTA NEWSPAPERS PHOTO BY J.W. SCHNARR
By J.W. Schnarr
Southern Alberta Newspapers – Lethbridge
The stars of southern Alberta professional wrestling are set to invade Taber.
Pure Power Wrestling, based out of Lethbridge, is coming to the Taber Community Centre Auditorium on Jan. 19, going from 6:30-9:30 p.m.
"This will be our second trip to Taber," said Kevin Farrell, a co-owner of PPW. "For those who were at our last show, this will be bigger and better than the last. "And if this is your first time out, you will leave a fan of live pro wrestling."
Fans of sports entertainment will be up close to the action as "The Real Deal" Sydney Steele takes on "Cougar Meat" Kyle Sebastian in a match that features two of PPW's premier performers.
Sebastian, who has been holding court over the PPW roster with an iron fist since winning the PPW Heavyweight title in 2017 will be in tough to keep his title from falling into Steele's more-than-capable hands.
In a battle of true titans, "The Big Sexy Beast" Bradley Graham will go toe-to-toe with "The Tattooed Terminator" Massive Damage.
These heavyweights are likely to shake the very foundations of the Civic Centre when they collide in the ring.
Damage is a grizzled veteran of the squared circle, but the Beast has proven time and again that there are no depths he won't sink to in order to score a victory.
The Beast is also a member of the Adult Social Society with current heavyweight champion Sebastian, and when one is in the ring the other is usually lurking in the shadows waiting to strike.
For the first time in decades, women's wrestling will once more be featured in Taber as Angelica takes on Saraya Sawyer.
Last month, Angelica scored a victory with her in-ring partner Steele during a mixed match in Lethbridge, and her in-ring skills have been improving by leaps and bounds as she works to establish herself among Alberta wrestling's elite.
And in a match that is sure to have the crowd buzzing, "Cowboy" Bryn Watts will continue his long-running war against PPW Cruiserweight Champion Travis "The Heat" Copeland.
The pair have escalated their feud in recent months and Watts has made his quest for the Cruiserweight belt personal – attacking Copeland every chance he can get.
Last month, the two battled to a double disqualification in Lethbridge, a result that has likely only added fuel to their fire.
Tickets are $10 and are on sale at Johnsons, or online at purepowerwrestling.ca.