Celtics keep winning
Posted on January 10, 2018 by Taber Times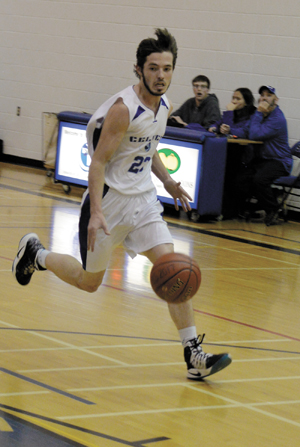 STREAKING: Keys to the early success of the St. Mary's Celtics boys basketball team have been a deep bench and its transition on the fast break with its running game. TIMES PHOTO BY GREG PRICE
By Greg Price
Taber Times
gprice@tabertimes.com
St. Mary's Celtics boys basketball team's are back on the court after the Christmas break and they start 2018 with plenty of momentum from the tail end of 2017 as the squad continues its winning ways.
In River Ridge Basketball League competition to end 2017, the Celtics beat Senator Gershaw Gators 79-48 as the team ran wild after the first quarter.
"We actually trailed 23-20 after the first quarter, but we were able to get our running game going in the second quarter, outscoring them 19-5," said Ken Gabruck, head coach of the St. Mary's Celtics boys basketball team. "We ran the ball quite well and our two boys inside played really well with their presence."
Donovan Passey had 19 points in the victory to go with seven rebounds. Mason Muller had 18 points and six rebounds.
"Colton Weinberger was a key catalyst for us in the second quarter. He was really strong on the defensive boards," said Gabruck of Weinberger's 10 defensive rebounds. "He also had a lot of strong first assists inside to Donovan and Mason."
The Celtics continued to winning ways with a JV exhibition contest against Nobleford which it won 94-70 in the week before Christmas break.
Grade 9 Carter Hendricks poured in 22 points and Emmanuel Adra had 17 points. Tyrell Martens chipped in 14 points.
"It gave us a good look to see what's coming up for us next year for the high school team using five Grade 10s and five Grade 9s and it worked out quite well," said Gabruck.
The Celtics also managed a varsity game against Nobleford which was the same team the Celtics played in the final of Nobleford's home tournament, this time having the Celtics blow out its opposition 87-31.
"There was lots of rotations and court time for everyone. We had 10 players and we just rotated two lines of five and it worked out really well," said Gabruck. "We got our running game going right from the start."
Muller netted 17 points in the win and Cobe Cobarubas hit for 15 points. Joey Giesbrecht added 14 points.
The Celtics play Milk River on the road this week along with a Foremost tournament on the weekend. The Celtics will be hosting its Double Blue tournament on the Jan. 19 weekend.