Year in review – looking back at 2017 in sports
Posted on January 3, 2018 by Taber Times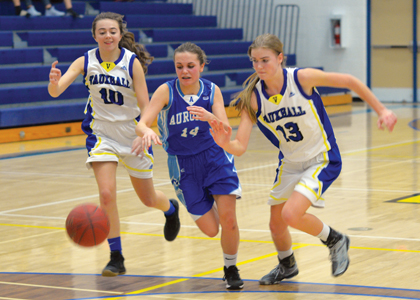 SPLIT THE D: Hallie Horvath pushes through two Vauxhall Queen defenders on her way to the basket in an away game at the Vauxhall High School gymnasium. TIMES PHOTO BY COLE PARKINSON
A look back at all the wins and losses 2017 had to offer.
January 4: The new gymnasium for Barnwell School is now open, and to help celebrate, a fun and innovative way to work on one's basketball skills is being offered. A Rhythmic Basketball Skills Clinic will be taught this Saturday by Emily Larson, a three-time Academic All-Canadian, a three team captain at the University of Toronto/Mount Royal University and a two time team MVP in university basketball.
W.R. Myers Rebels varsity girls basketball team hung with a Southern Alberta Girls Basketball League powerhouse for awhile, before eventually falling to Lethbridge Collegiate Institute Clippers 80- 71 to head into the Christmas break back on Dec. 22 on the road. The Rebels enjoyed three-point and nine-point leads at the first quarter and half-time benchmarks respectively before the Clippers came roaring back.
January 11: Taber midget "AA" Golden Suns (8-9-6) creeped its way closer to .500 with a solid weekend of South Central Alberta Hockey League play to kick off the New Year. The Golden Suns upended the Red Deer Elks (5-13-5) 7-4 at the Taber Arena on Friday night, battling back from 2-0 and 3-2 deficits.
The Taber atom 'B' Oil Kings had a great weekend of Spud League hockey play, coming out with two wins. The first was against Raymond on Saturday with an 18-5 win. Kayden Kress led the way with five goals and three assists. Zach Fehr registered two goals and three assists. Jaxson Coutts potted four goals and Damian Beswick had the hat trick. Tage Jensen had two goals and Tristen Egeland had a goal and an assist. Wieler Langhofer had two assists and Tyson Church had a single helper. Shaylee DeBona faced 38 shots on goal for the win.
January 18: The two teams may be 400 kilometres apart, that doesn't mean W.R. Myers Rebels and Lindsay Thurber Raiders girls basketball teams do not have a rivalry going. The two teams squared off in the championship match of a Bev Facey tournament over the weekend, and the Rebels took gold with a 58-41 victory.
January 25: If you have a sweet tooth for some sweet basketball competition, Barnwell School has just the thing for you. Once again Barnwell Trojans teams will be competing against W.R. Myers basketball programs at the school on Thursday as part of cake auction and school spirit basketball game activities.
W.R. Myers Rebels varsity girls basketball team pushed its record to 4-1 in Southern Alberta High School Girls Basketball League play last Wednesday with a 90-63 win over Medicine Hat Kwahommies on the road. The Rebels came flying out of the gate in a dominating first quarter which the Kwahommies never could recover from, as the Rebels outscored its opposition 31-13.
February 1: If there was any worry that the new gymnasium at the modernized Barnwell School would somehow take away the mystique of the school's basketball games/cake auction night, those worries can be put to rest if last Thursday is any indication. "I think it met and exceeded any of my expectations. I was worried it wouldn't have the same feel to it and I was wrong," said Aaron Edlund, vice principal and athletic director at Barnwell School, as the night still very much featured standing room only at times at its peak, despite the expanded seating capacity. "The credit goes to the kids for being so entertaining with both basketball games being played so well. The boys game was a three-point game and everyone was on the edge of their seats. The kids helped bring the atmosphere up with their level of play."
February 8: It was pure dominance for the W.R. Myers Rebels varsity girls basketball team in securing its home Rebel Classic tournament title on the weekend. Beating every opponent by 44 points or more, the tournament did help the Rebels with different variables in how to handle the games.
The stakes were higher this time around and Taberite Joel 'Bam Bam' Mills more than answered the bell with a dominating unanimous decision over Alvaro Enriquez in Calgary on Friday at Deerfoot Inn and Casino, as Mills continues his boxing comeback after a long layoff due to injury.
February 15: Taber bantam "AA" Golden Suns (19-8-2) took care of business this past weekend in South Central Alberta Hockey League play, winning both of it contests, as the squad is breathing down the neck of the Okotoks Oilers (17-5-7) for first place in the South Division.
Violence is not always a punch in the face. On Monday, two-time Grey Cup champion and Leading Change facilitator Keon Raymond, and fellow Alberta Council of Women's Shelters (ACWS) facilitator Catie Hickman challenged a crowd of students at the W.R. Myers' school gym to answer how they defined violence. Although a bit hesitant, answers from the Myers, D.A. Ferguson and Vauxhall High students became trickling out; hitting, cat-calling, guilt-tripping and racism were just a few of the answers given.
February 22: W.R. Myers Rebels varsity girls basketball team continues to be a 3A powerhouse, as the squad took another tournament title this past weekend in Red Deer at Hunting Hills. Rebels earned the title by dispatching the hosts 65-49. The title run also included a 68-30 pasting of Charles Spencer on Friday night and a 69-38 victory over Arch Bishop MacDonald to make it to the final.
Taber peewee "AA" Golden Suns (13-12-5) split its pair of South Central Alberta Hockey League games over the weekend.
March 1: Two Taberites helped lead their rink to the gold medal at the Alberta Games 55-plus Women Curling Provincials in Grande Prairie during the Family Day weekend.
Taber midget "AA" Golden Suns (12-14-7) split its pair of SCAHL games over the weekend.
March 8: If one is to set the intensity level for zones and beyond, the W.R. Myers Rebels varsity girls basketball team certainly did that on Friday night. Seniors night emotions were filled in a packed gym, as the Rebels took on 4A powerhouse Lethbridge Collegiate Institute Clippers, taking them to the brink before losing 84-80 in double overtime.
March 15: W.R. Myers Rebels varsity girls basketball team rallied from a nine-point third quarter deficit to upend the McCoy Colts 73-71 to three-peat as 3A south zone champions on Saturday.
Taber bantam "AA" Golden Suns found out just how tough the relatively new format for South Central Alberta Hockey League playoffs can be. A few years ago, it was your regular playoff series with seedings from the regular season with multigame series against each opponent. Now, there is one playoff tournament, where one bad game can get you eliminated.
March 22: Everyone knew it would come down to this. After a thrilling 3A zone battle between the W.R. Myers Rebels varsity girls basketball team and McCoy Colts, the two juggernauts faced off once again in the weekend's provincial final, but this time McCoy got the better of the Rebels in a 46-41 loss in front of a packed crowd in Medicine Hat.
The Town of Taber has allocated funds to study the best options involving re-developing or replacing the Small Ice Arena inside the Taber Community Centre complex. At their Feb. 27 regular meeting, town council voted unanimously to allocate $19,000 (plus GST) from capital reserves for the purpose of having MPE Engineering complete an investigative study regarding options for future enhancement or development of the Small Ice Arena.
March 29: Taberite Connie Gross is making some World Master Games (WMG) history, as she will be part of a Canadian contingent that will compete in dragon boating, the first ever time the sport has been featured at the Games.
As with the changing of the seasons, so too does the finish of the Taber 4-on-4 Hockey Tournament this past weekend signal the official finish of hockey season. Sixteen teams battled for bragging rights for the tournament which ended up having the Street Savages take the title with players from the Enchant, Lomond, Foremost and Taber area. It featured a classic 'A' final, going to a seven-round shoot out in the end to determine the champion, as goalies from both teams were on the University of Lethbridge Pronghorns men's roster.
April 5: The W.R. Myers Rebels varsity girls rugby team is embarking on a new endeavour as it will host its First Annual Spring Thaw Tournament at Myers field this weekend, and already teams from around the province are buzzing having tried to gain entry.
Despite rumours swirling around in the community by some to the contrary, it looks like Taberite Joel Mills will in fact be boxing in front of his home town. While there has been some maneuvering around as far as a commission goes in sanctioning the fight card, it looks like it will be July 15 when Mills laces up his gloves as part of an eight-fight card at the Taber Arena.
April 12: The opposition felt the heat in the Spring Thaw Tournament over the weekend, as the W.R. Myers Rebels varsity girls rugby team went a perfect 3-0 to kick off its season at Myers Field.
The U14 WHAM! Chill girls club volleyball team used its youthful exuberance in Edmonton this past weekend to take the silver medal at a tournament. With players from Taber, Barnwell and Vauxhall, the huge tournament featured five divisions with the Chill competing in Division II against players older than themselves.
April 19: It was the tale of two games for the W.R. Myers Rebels baseball team in a split of Southern Alberta High School Baseball League competition. The team had a two-game homestand, splitting its games in the process.
Get your engines started, legal drag racing is coming to the Vauxhall Airport. During their regular April 11 meeting, the Municipal District of Taber council received back requested information about a proposed drag race put on by the Street Wheelers Car Club on M.D. property. Council first discussed the proposed race during their regular Feb. 28 meeting, when they received a letter from the Street Wheelers Car Club. Accompanied by their treasurer, Dean Parker, in the letter, they requested permission from the M.D. to host a drag race at the Vauxhall Airport in September. Council had approved the request, pending they hear back from the airport committee and insurance. Since then, they have had a chance to receive feedback from the airport committee and users of the airport.
April 26: Although technology can be a good thing, like many things, you can have too much of it. That was the message Rob McLeod, sixtime Guinness World Record holder and frisbee ambassador, was hoping to spread to the students of W.R. Myers High School. With 10 World Championships under his belt and holding the Canadian Distance Record for throwing a flying disc a distance of 712 feet, 'Frisbee Rob' touched upon digital citizenship, access and etiquette before giving a frisbee throwing lesson.
The Taber Exhibition Association is trying something new this year with the first ever Bolt for Buckles event. Buckles will be up for grabs along with an open jackpot of $3,000 for the barrel racing extravaganza. "We've got some riders from Saskatchewan, from B.C., pretty much any neighbouring province east, west and north. Right now we have about 125 preentries," said Kristen Nickolson, organizer for Bolt for Buckles, and a board member of the Taber Exhibition Association. "I'm hoping though we will hit about 150 but who knows. The pre-entries closed today (April 21), but they can enter the day of so we may get quite a bit more." Nickolson sees the pilot project of the TEA as some perfect timing for competitors who are getting the itch.
May 3: The W.R. Myers Rebels girls rugby team proved they had home-field advantage after last week's game against LCI. In their first home game of the season, the Rebels beat LCI in a 77-20 victory.
Competitive starts for the W.R. Myers High School Rebels boys baseball team were not enough to stave off late collapses in doubleheader action over the weekend in Brooks.
May 10: Another week, another solid string of performances by the W.R. Myers Rebels varsity girls rugby team. The Rebels finished the Cougar Classic in Red Deer this past weekend with a 2-1 record, eventually falling in the gold-medal match to Raymond 35-0.
Continuing their recent trend of keeping top level southern Alberta talent at home, the Lethbridge Pronghorn women's basketball program and head coach Dave Adams is thrilled to add Southern Alberta High School Basketball League Co-MVP and former W.R. Myers Rebel Millay Johnson.
May 17: Nothing has come easy for defenceman Brandon Davidson in his voyage to the National Hockey League. Bypassed in his draft year from the Alberta Midget Hockey League, Davidson would eventually become captain of the Regina Pats WHL team he had to walk on to make. That resulted in Davidson being a sixthround NHL draft pick by the Edmonton Oilers in 2010 and a longshot in some eyes to make an NHL squad.
Life may be like a box of chocolates like the iconic movie Forrest Gump states, but so too was the 2017 WHL Bantam Draft for Taberite and goalie Brayden Peters — you never know what you're gonna get. There was plenty of buzz around the 'AAA' netminder for the Val Matteotti Golden Hawks that he would go at some part of the draft.
May 24: When an athlete makes an elite- level competition for the first time, often it is just like the Academy Awards, one is happy to just be nominated. But not for Barnwell's Riley Johnson. Competing at the Western Canadian Gymnastics Championships in Brandon, Manitoba recently, it was a first for Johnson who remained undaunted and took a bronze medal on rings, while also helping his Team Alberta gymnasts win the gold over British Columbia in the team event.
The Southern Alberta Summer Games are quickly approaching, and the Town of Taber is encouraging everyone in the area to consider registering to be part of the M.D. of Taber team. The Games offer southern Albertans the chance to participate in friendly competition in a number of different sports, ranging from badminton, track and field, archery, golf, soccer, and many more. Hosted by the City of Brooks and County of Newell this year, the games are being held from July 5-8 in Brooks.
May 31: The W.R. Myers Rebels varsity girls rugby team showed no mercy in its blowout victory over Medicine Hat at Myers field last Tuesday. Perhaps a victim of bad timing as well with the opposition, Myers could ill afford to take the foot off the gas pedal as the squad looks to keep its killer instinct heading into playoffs.
While the final scores may not have been what local football players wanted in the ABC Border Bowl this past weekend at the University of Lethbridge, each made their presence felt which bodes well for the upcoming fall gridiron season.
June 7: Sports Day at Chamberlain School in Grassy Lake had a very special guest on Thursday. Bronze-medal Olympian and rugby Team Canada member Ashley Steacy was on hand to give the student body words of encouragement as part of a partnership with EverActive Schools and Be Fit For Life.
Another Southern Alberta High School Baseball League season is in the books and two Taberites made their mark, according to coach votes across the league. Kole Fujita and Darian Simmons were selected as Southeast all-stars for their stellar play with the W.R. Myers Rebels baseball program.
June 14: Winning don't come easy — and that was certainly the case for the W.R. Myers Rebels varsity girls rugby team as it was gut-check time on the way to its second straight Tier III provincial championship in Black Diamond this past weekend. The Rebels battled both a tough opponent and tough weather conditions on the way to a 39-22 win over Rimbey to take home the provincial banner.
Local swimmers showed up in droves to support its home meet on the weekend at the Taber Aquafun Centre, and with it came many positive results. "We had a great turnout, we had 91 per cent of our club show up at our home meet," said Sara Clarkson, head coach of the Taber Viper Swim Club.
June 21: The victories keep piling up for the Vauxhall Spurs. The Spurs were able to push its record to 11-2 after sweeps of doubleheaders against the Medicine Hat Knights and Fort Macleod Royals on the weekend. The Spurs showed its resiliency in its first game against Medicine Hat Knights on Saturday at Jets Stadium, as the squad trailed early before pulling out a 7-5 victory.
Pick a sport and someone in the Muller family has likely played it here in Taber. Kaleb Muller was just recognized as a five-sport athlete at St. Mary's School this past week, along with being the Male Brother Beaudoin Athlete of the Year. And that's just for school athletics as it seems Kaleb is a pretty good athlete in other sports as well. Muller will be representing Alberta in mountain biking at the 2017 Canada Summer Games in Winnipeg, starting at the end of July. He did so by accumulating the most points by reaching the podium each time in three bike races for Category 2.
June 28: The recent swim meet in Pincher Creek may have seen fewer Vipers competing then usual, but it didn't stop them from swimming to new distances. "We had lots of best times at this meet, and some really good effort in the swim," said Sara Clarkson, head coach of the Taber Vipers Swim Club. The June 23 meet was further away from the Vipers home base, so fewer Vipers were able to attend. However, there were also fewer disqualifications.
It was splitsville for the Vauxhall Spurs in a series of recent doubleheaders as the team attempts a deep drive into the standings in American Legion "A" baseball. On June 21, the Spurs were in Lethbridge at Spitz Stadium to take on the Miners in a two game set which saw them emerging with a loss and win.
July 5: A contingent of Taberites participating in the Sea to Sea Bicycling Mission are putting rubber to road cruising into Taber on July 11. Sea to Sea is a bicycling mission fighting poverty through fundraising and awareness, and supports Partners Worldwide and World Renew in their efforts to fight poverty around the world.
Local musician and entertainer "Wild" Bill Lawson was recently tapped to come up with a team anthem for the Lethbridge Bulls baseball team, which will be played during games. "A couple weeks back, Mark Campbell approached me, he's the new PR guy for the Bulls," said Lawson. "I've done a lot of theatre and stuff with him in the past, and I've dabbled at writing a few things with him here and there. He said he needed sort of an anthem song for the Bulls, something they can play." The Bulls are a summer college team playing at Spitz Stadium. The team is a member of the Western Major Baseball League, a collegiate summer baseball league operating in the prairie provinces of Canada.
July 12: This Saturday, a local boxer will take care of some Unfinished Business. The boxing event will be the first time Taberite and professional boxer Joel 'Bam- Bam' Mills will be fighting in his home town. But instead of being nervous, he is more then ready to jump into the ring. In fact, he says he's "110 per cent prepared". "I've been training really hard for a long time now," said Mills, who completed a three-month training camp to prepare for the fight. "I've done a lot of sparring, I've been bringing in sparring partners from Calgary and Lethbridge — that's the most important aspect of the training for sure. I've just been pushing hard you know, leaving it all on the gym.
Taber/Municipal District of Taber athletes clean up quite nicely at the Southern Alberta Summer Games which concluded this past weekend in Brooks. The M.D. of Taber scored 243 in aggregate points, giving the region the third highest aggregate points score out of the 13 competing regions (County of Newell placed first with an aggregate point score of 419, followed by Medicine Hat with 252). The M.D.'s total point score was 1,243, placing after the County of Newell (4,300.5), Lethbridge (2,118.5) and Medicine Hat (1,395).
July 19: It was a celebration of Taber on many fronts, with pro boxer Joel Mills finishing his business at Teofista Boxing Series' 'Unfinished Business' at the Taber Arena on Saturday night, with a third-round KO of his opponent. It was new business for Mills, whose original opponent got held up at the border in Mexico as late as last Wednesday, where he was scrambling for an opponent. Mills found one in Alejandro Herrera, who previously had an impressive 18-6-0 record.
Taber Recreation Board got a look into various options addressing the small ice arena. Back in February, council allocated funds for the purpose of having MPE Engineering complete an investigative study regarding options for further enhancement of the existing small ice area or the development of a new arena. Peter Goertzen from MPE Engineering made a presentation to the recreation board at its July 11 meeting where four options were explored, including: direct replacement, expansion of the current building to the north to allow for a regulation-sized ice surface, expansion to regulation size with current curling rink space and a new separate rink connected by a corridor.
July 26: Somewhere, Justin Hall is looking down with a smile and love in his heart for those who registered for the First Annual Justin Hall Memorial Golf Tournament and Dinner. Being very close friends with several members of the police department where his wife works, officer David Dube approached Hall's widow Linda about a memorial golf tournament in his name months ago.
Taber Mennonite School may have found a home for its physical education classes for the 2017/2018 school year. The school has been utilizing the D.A. Ferguson School gymnasium to meet its curriculum requirements for physical education. As D.A. Ferguson will be under going renovations for that school year, it leaves Taber Mennonite School scrambling for a new location. Phil Johansen, associate superintendent of finance and operations for Horizon School Division had earlier approached the Taber Recreation board about the possibility of renting out the Taber Community Centre gymnasium.
August 2: He would have been so proud. The recently concluded Unfinished Business boxing card at the Taber Arena that featured eight matches in total, including headliner Joel 'Bam Bam' Mills was a dream that was not only realized by Mills himself who started at nine years old, but Taber boxing pioneer Bob Fettig as well.
There were a Baker's Dozen of Taber Viper Swim Club members that competed at the Nanton Marlins meet this past weekend. "For the Nanton meet, we had a lot of swimmers try different events that they wouldn't normally do, just to see to how it would go. We are in the middle of really hard training in practice," said Sara Clarkson, head coach of the Taber Viper Swim Club. "So those swimmers who got best times, I'm amazed at them because that's really hard to do right now with their training." For 13-and-14-year-old girls, Jessica Anderson clocked top time for 100-metre backstroke (1:22.29). She earned a second-place time in 50-metre backstroke (39.02) and finished in third for 50-metre fly (36.12).
August 9: It has been brothers in arms for several slo-pitch accolades as of late. Former Taberites and brothers Jeff and Josh Zanolli represented Team Canada as part of the Men's Slo-Pitch Border Battle in Oklahoma City from June 29-July 1. Team Canada celebrated the birth of its nation by beating Team USA on July 1 at the Border Battle.
Alanna Makarchuk earned the 2017 junior girls club championship last Thursday with a round of 94. It was an improvement from last year's round of 100 she shot at the junior girls club championship, but still not as good as her average score. A lack of prep time before the club championship threw her swing off kilter.
August 16: Fresh off a new five-year agreement to have VerSet Hockey School in Taber, the school saw a big surge in interest for 2017. Concluding last week, Rich Wiest, a coorganizer of the camp, confirmed VerSet Hockey School was right full with 130 kids, with 20 kids on a wait list.
It was a two-horse race once again for the ladies club championship, with Cathy Fisher earning a twostroke victory over Cindy Wilson at the Taber Golf Club on Sunday. The dynamic duo made for plenty of drama in 2016's club championship as well, with Fisher squeaking out a one-stroke victory over Wilson.
August 23: Football season is just around the corner and the W.R. Myers Rebels football team are looking to build on the momentum of a very successful 2016.
John Braun is doing anything but slowing down in his Golden Years. Braun, a 2008 inductee into the Taber and District Sports Hall of Fame, is continuing his powerlifting exploits, even at age 72. Braun broke the world record for deadlift for his age group (70- 75 years old). Braun deadlifted 463 pounds, shattering the old record of 450.8 pounds.
August 30: The Lethbridge Pronghorns will be hosting two pre-season rugby games at the Ken McDonald Memorial Sports Park on Sept. 2 as part of the University of Lethbridge Shine event. The Horns junior varsity team will lineup against the University of Alberta Pandas junior varsity in the first game. The other exhibition game sees the varsity Pandas take on the Central Washington varsity team from Ellensberg.
A blue-green algae (cyanobacteria) bloom has been identified in Sherburne Reservoir. Residents living near the shores of this reservoir, as well as visitors to this reservoir, are advised to take the following precautions: * Avoid all contact with blue-green algae (cyanobacteria) blooms. If contact occurs, wash with tap water as soon as possible. * Do not swim or wade (or allow your pets to swim or wade) in any areas where blue-green algae (cyanobacteria) is visible. * Do not feed whole fish or fish trimmings from this reservoir to your pets. * Consider limiting human consumption of whole fish and fish trimmings from this reservoir, as it is known that fish may store toxins in their liver. (People can safely consume fish fillets from this reservoir).
September 6: Taber bantam Rebels football team was able to shake off an offseason of inactivity with a controlled scrimmage last Thursday at Ken McDonald Memorial Sports Park against the Lethbridge Cougars. With a current roster of 23 players and approximately a third of the team having never snapped a football before in organized play, it gave an opportunity for head coach Jamie O'Connor to see exactly what he had.
The W.R. Myers Rebels football team is entering its regular season with plenty of positives and forward momentum from its preseason jamboree at Winston Churchill High School on Friday. The team finished with a 3-0 record with plenty of opportunity to spread playing time around to see what the coaching staff had to work with.
September 13: W.R. Myers Rebels football team got its 2017 gridiron season off on the right foot with a tight 12-9 victory over Catholic Central Cougars at Ken McDonald Memorial Sports Park on Friday night.
Taber Recreation board is inviting members of the major arena user groups for their input into the future plans of the small ice at the Taber Arena. MPE Engineering was once again on hand at the Taber Recreation Board meeting on Sept. 7 to discuss various issues arising from the small ice whose life span has been estimated five to 10 years tops in how its fallen into disrepair. Back in February, council allocated funds for the purpose of having MPE Engineering complete an investigative study regarding options for further enhancement of the existing small ice area or the development of a new arena.
September 20: Fall is in the air and minor hockey players are back in the rink preparing for the upcoming hockey season. Once again, Taber Minor Hockey kicked off the hockey season with an exhibition game between the Lethbridge Hurricanes and the Medicine Hat Tigers on Sept. 2, something that they've done for the past few years and they hope to continue to provide the Town of Taber with an opportunity to see WHL action at their hometown rink.
W.R. Myers Rebels football team has had its way in recent years in games against the Drumheller Titans in the win column. But Friday's tilt proved anything but easy as the Rebels gutted out a 21- 19 victory at Ken McDonald Memorial Sports Park against a new-and-improved Titans team.
September 27: Taber bantam "AA" Golden Suns opened its South Central Alberta Hockey League season with a 3-3 draw against the Okotoks Oilers at the Taber Ice Arena on Friday night. The power play was clicking for the Suns who got two of their three tallies from the man advantage in the victory. Kaden Walburger, Carter DeBoer and Jed Magarrell all scored for the Golden Suns who got assists from Nathan Verloop, John VandenElzen and Braeden Sheppard.
October 4: Taber midget "AA" Golden Suns started its 2017/2018 South Central Alberta Hockey League season off on the right note with two home sweet home victories at the Taber Community Centre.
Taber bantam Rebels dropped a 25-7 decision to the Coaldale Spartans on Saturday at Ken McDonald Memorial Sports Park. The Spartans had a 6-0 lead at the half in the near stalemate at the time.
October 11: Taber peewee "AA" Golden Suns had a tough go of it this past weekend in South Central Alberta Hockey League play, dropping both of its games.
With a new hockey season underway in Taber, a new face has taken up the mantle for Taber Minor Hockey. Justin Fletcher joins the staff as president for the upcoming 2017/18 season and while it is his first executive position within Taber Minor Hockey, he does bring some outside experience.
October 18: The Town of Taber and Municipal District of Taber are back in the saddle for the 2018 Southern Alberta Summer Games (SASG), which were officially awarded to the municipalities last week. The region was awarded the Games by the Southern Alberta Recreation Association (SARA), and will mark the fifth time the event has been hosted by the municipalities, as well as the 49th anniversary of the Games themselves.
The seventh Annual Pheasant Festival is just about ready to kick off in the Taber area once again this year. The annual event will be jump started this Saturday and runs for a full week until Oct. 28.
October 25: Battling the elements and its opposition, the W.R. Myers Rebels football team managed a dominating 41-12 win over Winston Churchill Bulldogs at Ken McDonald Memorial Sports Park, in a cold, windy and rain-soaked game on Friday.
Several interest groups will be returning to the Taber Recreation Board's November meeting with their input with how they would like to see the future of the Taber Ice Arena progress. Several of those groups were on hand at the board's October meeting to see the progress the board had made into looking into three options of direct replacement of the small ice, expanding the current building north to allow for a switch from a small ice to regulation ice, or a new separate building for a regulation-sized rink that is joined by a corridor. The recreation board wanted to get a feel from user groups if they felt current facilities were sufficient for various needs.
November 1: The Tier III football semifinal at Ken McDonald Memorial Sports Park on Saturday had plenty of drama to it, with the Taber bantam Rebels finishing on the short end of an 18-12 overtime decision against the Lethbridge Cougars that had spectators at the edge of their seat.
Thanks to a potent power play, the Taber midget "AA" Golden Suns (3-3-2) were able to mount a furious comeback in its own barn to earn a 6-6 draw with the Wheatland Chiefs (6-3-1), after falling behind 4-0 in the first period in South Central Alberta Hockey League play.
November 8: When he first laid eyes on her, he just knew. Ever since that fateful day at auction, Stephen Cline and his horse Nikki have formed a special bond. That bond has frequently been on display in recent years with some impressive finishes in reined cow horse competitions.
St. Mary's Storm Grade 9 girls volleyball team were zoned in at its 3J championship weekend in Claresholm. The Storm were victorious in all five of its matches which included victories against F.P. Walsh, Parkside and Crowsnest Pass in round-robin play. The team then vanquished host Willow Creek in the semis before dispatching Kate Andrews out of Coaldale in the zone banner final.
November 29: It was not perhaps the way the St. Mary's Celtics boys volleyball team wanted to end its season for its seniors. The team did not manage to win a match at provincials, but made for some of the more entertaining sets of the tournament including a 28 -30 loss.
December 27: Former Taberite Caroline Vibholm is heading to Florida this holiday season to train to compete in the upcoming World Equestrian Games (WEG) in North Carolina in August 2018. Dressage is seen by some as the highest connection a rider can have with their horse.