Vibholm on world dressage stage
Posted on December 27, 2017 by Taber Times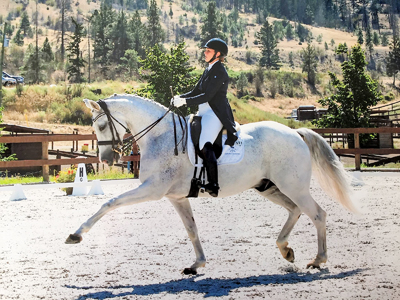 HORSING AROUND: For a competitor to excel in dressage, the rider and horse must be like one. Pictured is former Taberite Caroline Vibholm's top horse Santorini Hit (aka Santa) at the Sunmeadows Equestrian Centre in Kamloops, B.C. TIMES PHOTO SUBMITTED BY CAROLINE VIBHOLM
By Greg Price
Taber Times
gprice@tabertimes.com
Former Taberite Caroline Vibholm is heading to Florida this holiday season to train to compete in the upcoming World Equestrian Games (WEG) in North Carolina in August 2018.
Dressage is seen by some as the highest connection a rider can have with their horse.
It is a highly skilled form of riding performed in exhibition and competition, as well as an "art" sometimes pursued solely for the sake of mastery where horse and rider are expected to perform from memory a series of predetermined movements.
"It's a sport that is sort of like watching ballet, but on a horse. You have to make them look graceful, you have to be a partner with your horse, kind of like a dance partner," said Vibholm. "The whole point of it all is to not be able to see what it is you are doing as a rider and the horse looks like they are doing all these fancy moves on their own like it's effortless. It's very technical."
Vibholm's parents are from Denmark with Vibholm herself born in Taber.
Being back and forth to the two countries a few times, Vibholm got the passion for riding horses while she was in Denmark.
"The sport is quite big in Europe and is also big in the United States too, both show jumping and dressage. It just hasn't reached Canada yet," said Vibholm.
Vibholm has always loved horses and combining that with a very competitive streak flowing through her blood, dressage seemed a natural match.
"I started as a show jumper and then I had a really bad accident that could have killed me. My parents decided to sell my jumper and they told me if I ever wanted to get back on a horse again it had to be dressage," said Vibholm. "It's still dangerous, you are with a horse, but it's not quite as bad as other disciplines in the equestrian industry."
Just as the rider must have the right temperament for dressage, so too must the rider's horse along with a certain body type.
"You can't just pick any horse, the horse has to be an athlete too. But it also has to match you too, size wise, look wise. You and your horse have to match tempers as well," said Vibholm. "You can't have a super hot rider and a lazy dud of a horse or vice versa because that match is never going to happen. It really does matter how much you click."
Quarter horses are not used, instead warmblood horses are showcased which are bred for dressage.
"They are much bigger and there are different breeds in the sector. My horses are mainly Danish warmbloods or Hanivarian," said Vibholm. "All my horses are 17 hand mark or up. They are closer to a 1,400 pound animal of pure muscle that you have to make dance and you dance to music with a freestyle narrative."
At the peak of a dressage horse's gymnastic development, the horse responds smoothly to a skilled rider's minimal aids. The rider is relaxed and appears effort-free while the horse willingly performs the requested movement.
In modern dressage competition, successful training at the various levels is demonstrated through the performance of "tests," prescribed series of movements ridden within a standard arena.
Judges evaluate each movement on the basis of an objective standard appropriate to the level of the test and assign each movement a score from zero to ten – zero being "not executed" and 10 being "excellent."
Vibholm has to travel a lot if she wants to compete in dressage with very few events found in Alberta with Caroline now currently residing in Lethbridge.
"Show jumpers have it a little easier because of Spruce Meadows (Calgary) and there's nothing quite like that here for dressage people," said Vibholm. "We dressage riders have to haul quite a bit. There's quite a bit of dressage in the Vancouver, Langley area and in the United States in California and I'm heading to Florida which is sort of like the course mecca. We have to travel a lot with only a few events here in Alberta."
Vibholm has competed in dressage for 20 years and she was on the Danish Junior Young Rider national team.
"Because Florida has shows every single weekend, I get to do a lot more showing down there," said Vibholm. "The World Cup circuit has different leagues all over the world. There's a North American league, a Central European League, a Western European League and a Pacific-area League."