Rebels power way to title
Posted on December 20, 2017 by Taber Times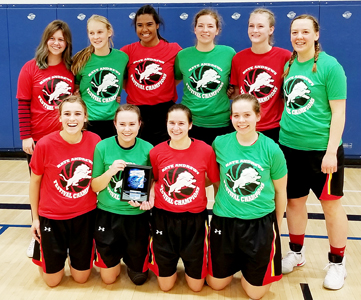 PRIDEFUL: W.R. Myers Rebels varsity girls basketball team dominated in a tournament championship against the host Kate Andrews Pride. TIMES PHOTO SUBMITTED
By Greg Price
Taber Times
gprice@tabertimes.com
W.R. Myers Rebels varsity girls basketball team cruised to the tournament title at Kate Andrews on the weekend, beating the host Pride 78-45 in the championship.
"Playing the home team in their home tournament is never an easy task, but we got off to a very good start. We caused quite a few turnovers which we were able to capitalize on and convert them into points. Everyone was able to get on the score sheet," said Kenney Wood, head coach of the W.R. Myers Rebels varsity girls basketball team. "Brandon, Marty and I thought everyone contributed the whole tourney — whether it was rebounding, fighting for loose balls or making assists. It was a good solid three games for us to build on."
Austen Robbins led the Rebels in scoring with 20 points and Kitawna Sparks had the double-double of 14 points and 11 rebounds. Alex Haller had 13 points.
The Rebels started its tournament run with a 74-53 win over Picture Butte Queens, being in cruise control after a 62-26 half-time lead.
"Everyone scored in the game and we tried a few new things which went well," said Wood. "We had a few players show a bit more aggressiveness in their play and it worked out well for them."
Sparks had 14 points and Haller and Sophie Simek both had 12 points apiece. Reagan Bailey had 11 points.
The Rebels made it to the championship final by dispatching Immanuel Christian Eagles 75-60.
"We continue to show a little more aggressiveness offensively and defensively. Immanuel Christian is a very tall team and we had to fight for rebounds all game," said Wood. "When we were able to move the ball quickly on offence we were able to take advantage of some slow rotations on defence by the Eagles which led to some baskets. We also caused a number of turnovers which we turned into some lay-ups."
Sparks and Steed both had double-doubles with Sparks registering 18 points and 10 rebounds and Steed getting 10 points and 10 rebounds. Langley Moser and Robbins each poured in 14 points.
Players of the Game were chosen for all three games with Simek, Robbins and Steed taking home game honours.
Robbins won tournament MVP and Sparks was a tournament all-star.
It marked some positive momentum after a rough start to the Southern Alberta Girls High School Basketball League in which the Rebels have dropped two straight.
The Rebels had its home opener on Dec. 12 and fell 87-78 to the Raymond Comets, in which the Rebels had to make various adjustments due to foul trouble.
"We played pretty well but got into some foul trouble right away which are first-game jitters I guess. With more foul trouble in the second quarter, player rotations were not what I wanted, but we were still in the game," said Wood, adding the Comets were able to have an 11-point lead after three quarters. "Raymond continued to knock down open shots to keep their lead. We were a bit slow on some coverages and also got lost a few times playing defence which lead to some easy baskets. We gave up too many uncontested baskets. Raymond is always a tough game, they are always very aggressive and we let them get too many open shots."
Wood highlighted the strong play of his rookies whose play was solid and the few mistakes they made can be easily corrected.
"Marty, Brandon and I were pleased with everyone's effort and know that this is only the first game and championships aren't won until March," said Wood.
Sparks hit for 24 points to go with 11 rebounds and Steed poured in 22 points and grabbed 10 rebounds. Robbins added 14 points.
The team then traveled to Magrath to battle the Pandas and turnovers plagued the team once again as the Rebels were defeated easily 87-59.
"We started our game very slowly and we had far too many turnovers. It really limits our chances of winning when we give the other team 20-plus extra possessions," said Wood. "Magrath is a solid team, but we could have played better on defence. We have lots of things to still work on, with this being only our second league game of the season, we have time to adjust a few things."
Sparks notched 13 points and 10 rebounds and Robbins and Steed both had 11 points.