Celtics take home tourney title in Nobleford
Posted on December 20, 2017 by Taber Times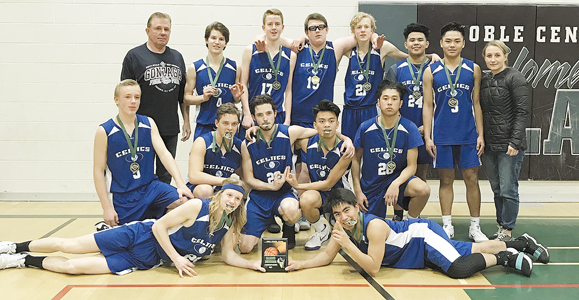 TOP DOGS: St. Mary's Celtics boys basketball team show off their bounty from a tourney win. TIMES PHOTO SUBMITTED
By Cole Parkinson
Taber Times
cparkinson@tabertimes.com
A deep St. Mary's Celtics boys basketball team has had a strong start to the season with a tournament win and a rare victory against a River Ridge Basketball League opponent, thanks to Mr. Clutch.
The Celtics won a tournament in Nobleford this past weekend which had plenty of drama right from the start in the Celtics opening game.
A back-and-forth match against J.T. Foster from Nanton which saw no lead go past six points, had Jobert Cruz playing hero by hitting a three-pointer at the buzzer to send the Celtics to a 96-93 victory.
"They had two really strong players that we struggled with. One really tall player we couldn't handle the boards with and another athletic kid we struggled to control being it was a high-scoring game," said Ken Gabruck, head coach of the St. Mary's Celtics boys basketball team. "We didn't control the boards as best as we'd like, but they put a press on and when we were able to beat the press handily, it led to a lot of easy baskets off the press break."
Cruz had 22 points in the win and Cobe Cobarubias added 17. Emmanuel Adra had 13 points and Carl Rodrigo had 12 points.
The Celtics battled Senator Gershaw from Bow Island in the semifinal in a 68-43 victory.
"Donovan Passey had his best game of the year. He got involved on the boards and it was the kind of play we were expecting from him all year," said Gabruck of Passey's 16 points and nine rebounds. "It was a close game in the first quarter, but they struggled to score in the second and fourth quarters where we kept them to single digit points."
The championship game featured the Celtics against the hosts in a 76-67 St. Mary's banner win, powered by outscoring its opposition 26-5 in the third quarter.
"It was a bit of a frustrating game. We started slow and it was like we weren't prepared and we got outworked and outhustled in the first half," said Gabruck. "We switched defences in the second half and they struggled to get any quality scoring chances. We switched to a box-and-one. When they got the ball to this one player, he stretched out our defence and it opened up holes where they were scoring at will in the first half. By taking away that first pass from him, the other players struggled to get into an offensive flow."
Mason Muller had the double-double of 14 points and 16 rebounds. Joey Giesbrecht came off the bench and scored 13 points.
"We have a lot of depth, we can go an easy 10, 11, 12 players deep, which is what we have been doing, rotating 10 players for four minutes or so," said Gabruck. "It tends to wear down some teams."
That depth was showed off last week where the Celtics were able to pull off the victory over Vauxhall Vikings on the road last Wednesday. It is the first time the team has been able to beat the Vikings since they incorporated Vauxhall Academy of Baseball players into its roster.
Cruz proved the sharp shooter again, hitting a shot from beyond the arc with 3.5 seconds left to win the game 71-69.
"They have three or four really strong athletes and until three-quarter time we struggled to contain them," said Gabruck, as the Celtics trailed 57-46 at the time. "The depth was a big point in the game. We didn't control the boards at either end very well until the fourth quarter and then in the fourth quarter we controlled the boards and we were able to get our running game going."